USAREUR
• US Army, Europe
USAG Wiesbaden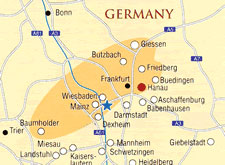 Since the completion of the latest round of base closings in Europe in 2014 and 2015, Wiesbaden has become an important U.S. Army headquarters. USAREUR Headquarters and several other important military units and service organizations are now located in the Garrison. The former Wiesbaden Army Airfield has been renamed Clay Kaserne. A new housing area has been built on Clay Kaserne and there has been tens of millions of dollars spent on renovating existing housing and schools as well as other improvements. A new post exchange opened on Hainerberg housing in early 2015 and a newly built hotel opened in 2013.
All this makes Wiesbaden a very nice place to be stationed. The Garrison currently supports 3,100 military members; 3,900 U.S. civilians; 1,200 Local National civilians, 10,500 family members and 1,100 retirees. There are seven housing areas with about 1,700 units for families and 900 barracks spaces. There are also around 1,900 leased dwellings. The Garrison is headquartered at Clay Kaserne and services 15 installations and housing areas as well as several enclaves in and around Wiesbaden.
The city of Wiesbaden, about 20 minutes from Frankfurt International Airport, is already noted as a spa and health center. Nestled in the Rhine valley near the junction with the Main River, it reached its zenith near the end of the 19th century. Many villas give witness to its elegant past.
The Golden City of Mainz's rich history has been lighted by such luminaries as Barbarossa, emperor of the Holy Roman Empire, and Gutenberg, inventor of the printing press. It is also the site of one of the oldest and most prestigious universities in Germany, and is perhaps most famous of all for one of the lustiest carnival (Mardi Gras) celebrations on the Rhine.
Facilities in Wiesbaden worth noting are the Rheinblick Golf Course, a new Exchange facility in Hainerberg, the modern Wiesbaden Army Lodge and the recently completed Newman Housing area on Clay Kaserne.
For further information check USAG Wiesbaden's website at www.wiesbaden.army.mil. Watch an introductory video here.
Facilities and Services
Sports and Recreation
For golfing enthusiasts there is the 18-hole Rheinblick Golf Course, with a pro shop, a restaurant and all the amenities you would expect from golf professionals.
There is basketball, softball, wrestling, tennis and more, and invitational tournaments are organized year round.
The new Wiesbaden Entertainment Facility center on Hainerberg offers multiple-lane bowling; a bowling pro shop; the Java Cafè (with Starbucks coffee); the Strike Zone restaurant for lunch and dinner; The Lounge for evening an night time entertainment and conference rooms for meetings, events and celebrations.
The Clay Kaserne Fitness Center has a well-trained staff, convenient hours of operation, locker rooms and a full array of fitness facilities, including a climbing wall, skateboard half-pipe and a child play area.
The Outdoor Recreation Center at Clay Kaserne organizes great trips and rents all sorts of equipment; camping gear, bikes, ski gear, sleds, coolers and tents. They also organize hunting an fishing opportunities and have an active sports shooting program.
Schools
The U.S. Department of Defense Education Activity Europe (DoDEA Europe) operates the Aukamm and Hainerberg Elementary Schools, a middle school and the Wiesbaden High School.
Health Services
The Health Clinic is an outpatient facility providing high quality primary and limited specialty health care. Serious cases are referred to local host nation hospitals or the Landstuhl Regional Medical Center in Germany. TRICARE-Europe is alive and well.
The Dental Clinic offers comprehensive general dentistry treatment, with limited specialty care. The specialty treatment includes prosthetics (crown and bridge), endodontics (root canals), orthodontics (braces) and pediatric dentistry. Service members requiring procedures not available at the clinic are referred to Army specialty clinics at Kaiserslautern, Landstuhl or Baumholder.
The services of the Veterinary Clinic include animal disease prevention and control, issuance of health certificates and vaccinations, pet registration, spay/neuter services and micro-chip implantation.
Theater
The Amelia Earhart Playhouse presents musicals, dramas, and children's theater, and is always looking for actors, actresses and technicians.
Lodging
The recently opened Wiesbaden Army Lodge on Hainerberg has 164 guest rooms and suites, including 24 pet friendly rooms. Some of the services and features include in-room telephone, free DSL internet, air-conditioned rooms, free self-service laundry room and well as a Fitness Room.
Shopping
The Army and Air Force Exchange Service (AAFES) has facilities at Mainz-Kastel, on Clay Kaserne and a newly opened shopping center at the Hainerberg Housing Area. In addition to the retail stores there are service stations, Xpress convenience stores, a pick-up point, military clothing sales, a video store, a Class Six beverage shop, a food court, a laundromat, an alterations shop, a movie theater and barber and beauty shops. There also are franchised restaurants spread throughout the Wiesbaden Military Community such as Burger King, Subway, Baskin and Robbins, Anthony's Pizza, Charley's Steakery, Cinnabon, Taco Bell and Popeye's Chicken. These franchise food restaurants also provide opportunities for family member employment.
There is a large commissary in the Hainerberg Housing Area. Payment for commissary items can be made by cash, check, credit or debit card. Ration cards are required to purchase coffee, tobacco and alcohol and can be obtained when you in-process.
Dining
The U'R Place Bar and Grill on Clay Kaserne and the Cappuccino Casino at Hainerberg offer an assortment of entertainment and snacks, occasional live entertainment, wide-screen television and state-of-the-art video games.
The Little Italy Restaurant and Catering Center (part of the Community Activity Center) is a top-tier facility offering the best of regional cuisine. They offer a menu with a variety of Italian, German and American dishes, delivery and take-out service (orders over $35 get a free bottle of house wine). They can also put together a variety of catered events.
Banking
Community Bank has branches at both Hainerberg and on Clay Kaserne, while Andrews Federal Credit Union is represented on Clay Kaserne and Hainerberg. They both offer full-service banking. Automatic teller machines (ATMs) offer 24-hour service for deposits and withdrawals from both checking and savings accounts.
Soldier and Family Assistance
Army Community Service (ACS) is an umbrella organization that covers Family Assistance Centers, the Family Advocacy program, Relocation Assistance, Outreach, Financial Readiness programs and Employment Readiness for family members, and is a resource for all community members.
Child and Youth Services provides a variety of service that include sports and fitness programs throughout the garrison; camps; full, part time or hourly child care; before/after school care; instructional classes; There is a newly opened modern youth center in the Hainerberg Housing Area.
The Better Opportunities for Single Servicemembers (BOSS) is designed to bring single personnel quality of life in line with their married counterparts. Billets afford single soldiers more living space, kitchens and other amenities. The single servicemember quality of life program in the garrison involves single soldiers in recreational travel and community help programs.
Chapels
Chapels on Clay Kaserne and at Hainerberg offer services and religious education in numerous denominations. Your Chapel staff can provide information about them. There is a wide range of Bible study groups, classes and retreats offered by the program.
AFN Hessen TV and EAGLE 98.7 Radio
AFN Wiesbaden operates TV and radio programming in conjunction with AFN Europe. They are powerful command information tools within USAG Wiesbaden. They carry spots tailored to keeping personnel informed about upcoming events and activities.
Library
The Wiesbaden Community Library provides invaluable, modern resources to students of all ages and levels, plus reference material, daily newspapers, videos, magazines and books on tape.
Arts and Crafts
The programs at the Arts and Crafts center include framing, ceramics, photography and woodworking. There is also a Wood Shop and Business Services (Print Shop).
Auto Craft Center
The Automotive Skills Center on Clay Kaserne offers assistance in performing automotive maintenance and repair. Equipment, tools and trained mechanics make everything, from charging a battery to major overhauls, possible at great cost savings.

Car Sales

Pre-owned cars, locations in Germany and Italy
Car/Vehicle Insurance

Insurance for US Military, BFG and other NATO forces
DoD Contractors/
ID Card Holders - Business & Employment Advice

Business consulting for DOD contractors and ID card holders
Pet Shipping

Pet Transport and Relocation Experts
Getting Married in Denmark

Marry Abroad Simply
Living in Germany

A Guide to Living and Working in Germany