Italy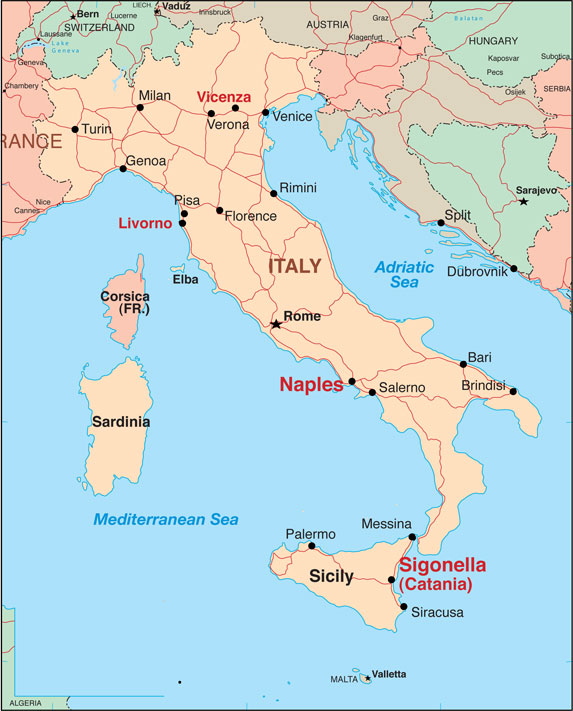 Few countries can compete with Italy for sheer wealth of art and architecture, not to mention music, literature, the culinary arts, fashion and contemporary design. The attractions are too numerous to mention. There is Venice with its canals and gondolas, the renaissance splendors of Florence, the Isle of Capri, Rome, with the Vatican, the Colosseum and the picturesque Appian Way. It has sunshine, beaches, museums, galleries, food and wine.
The traveler will experience marked contrasts as the Gothic palaces of Venice give way to the geranium-hung balconies and timber houses of the nearby Italian Alps, or as the renaissance splendors of Florence are left behind for Tuscany's medieval hilltop towns. Certain kinds of shopping are always fun in Italy. Leather goods (shoes, handbags, wallets, etc.) are good buys, as are ceramics and pottery. Shopping in the huge outdoor markets is also an experience.
Climate
Summers in Italy are hot, especially in the south. Sudden, torrential downpours are a feature of the hottest periods of the summer. Spring and autumn can be mild, with sunny weather. Winters in the south can be dry, clear, and sunny, if cold. The Italian Riviera is usually mild.
Greetings and Gestures
A handshake is the normal form of greeting, with kisses on both cheeks for friends.
Currency Exchange
Money should be exchanged at banks. Hotels, restaurants and shops usually give less favorable rates.
Customary Tipping
At restaurants, the service charge is included in the bill, although an additional small tip is usually expected. Hairdressers, barbers, taxi drivers, movie theater usherettes, museum and sightseeing attraction guides, restroom attendants, hotel staff and porters all expect tips.
Dining
The two foods most associated with Italy, spaghetti and pizza, both originated in Naples, and are an important part of the cuisine all over Italy. But there is more to Italian cuisine than that.
The typical day's dining in Italy is kick-started with milky coffee (caffee latte) and maybe a cornetto, a croissant with a jam or custard filling. If you need something between meals slabs of pizza are always available, as are sandwiches. And don't forget the ice cream (gelato). It's an Italian institution. Lunch and dinner typically start with appetizers (antipasto), and proceed to soup or pasta, followed by a main course of meat or fish and vegetables, and winding up with fruit and cheese and/or dessert. Respected wines to go with these meals include such reds as Chianti from Tuscany and such whites such as Prosecco from Veneto.
PORTS OF CALL
Naples
Sprawling in the shadow of Europe's only active volcano, Naples might be said to live on its nerves. The presence of the dormant Mt. Vesuvius, which in 79 A.D. swallowed up the nearby city of Pompeii, gives an added zest to Neapolitan life. The Neapolitans are quick to laugh and make friends, and they love their food and wine. Naples is the birthplace of spaghetti and pizza, while its vines were planted by the Greeks thousands of years ago.
Naples today is a bustling, vibrant city, a major port and important industrial center. It's also a great base for exploring the region with top sightseeing attractions such as Pompeii, the beautiful Amalfi coast and the holiday islands of Capri and Ischia all an easy day trip away. One of the greatest delights of Naples is the 19th century Galeria Umberto, a vast glass-roofed plaza with arches, plaster angels and all manner of gilt baroque carving. The plaza contains sidewalk cafes, bookstalls and posh and not-so-posh shops.
If you're looking to be entertained, you'll have plenty to choose from while you're in Naples. While here, a visit to the Teatro San Carlo is a must. It's one of the oldest operating opera houses in Europe, having been built in 1737, 40 years before the Scala. Gaeta, another port of call near Naples, is a seaside resort with rainless summers that attract people to its numerous beaches.
Sicily
Being an island, Sicily, home of NAS Sigonella and the Augusta Bay port facility, is surrounded by beaches ranging from soft white sand to huge lava rocks. It's the location of Mount Etna, not only the tallest volcano in Europe but also a beautiful national park. You can ski on its slopes in winter and early spring. You can also visit Catania, at Etna's base, with numerous ancient ruins; the famous beach resort of Taormina, and Syracuse, which was founded by the ancient Greeks in 691 BC.
Sicily boasts an incredible cultural heritage with the highest number of UNESCO World Heritage Sites in Italy. The people are very warm, friendly and hospitable. They are also very religious and celebrate with many elaborate religious festivals and holidays. Each town has a patron saint, and Sicilians honor the saint's birthday with feasts, parades and fireworks. Open-air markets abound in Sicily, offering everything from Italian shoes to household goods. You can also find fresh fruits, vegetables, fish and meats.

Car Sales

Pre-owned cars, locations in Germany and Italy
Car/Vehicle Insurance

Insurance for US Military, BFG and other NATO forces
DoD Contractors/
ID Card Holders - Business & Employment Advice

Business consulting for DOD contractors and ID card holders
Pet Shipping

Pet Transport and Relocation Experts
Getting Married in Denmark

Marry Abroad Simply
Living in Germany

A Guide to Living and Working in Germany