USAREUR
• US Army, Europe
USAG VICENZA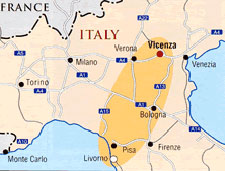 U.S. Army Garrison Vicenza is slated to be one of just four main operating areas left in USAREUR once current transition plans are completed. Plans are to double the size of the garrison by moving four battalions in from Bamberg and Schweinfurt, Germany. Housing and offices for the new soldiers and their families is expected to be located at the Dal Molin airfield on the other side of the city.
Vicenza, a thriving, vibrant city with a population of nearly 150,000, lies at the foot of the Dolomites and is a 45-minute drive west of picturesque, historic Venice. Caserma Ederle is on the east side of Vicenza, not far from the Vicenza East (Est) exit off Autostrada (A4) which runs from Venice to Milan and is a short bus ride, or even a leisurely walk, from downtown.
Vicenza enjoys a cordial relationship with its Italian neighbors. The USAG sponsors Italian-American fests that include entertainment, rides, games, fireworks and a variety of delicious foods. Its two-day Fourth of July Festa draws over 20,000 persons. Every year in February, Italian communities sponsor Carnevale, an event similar to Mardi Gras in New Orleans, and some of the most spectacular celebrations take place in Venice.
In addition to the many shops, restaurants and open air markets, Verona is bursting with historical structures all within walking distance of each other, including a 2,000-year-old Roman arena, castles and medieval piazzas.
For further information check thewebsite at www.usag.vicenza.army.mil.
Facilities and Services
Sports and Recreation
The Fitness Center has a well-trained staff, convenient hours of operation, locker rooms and a full array of fitness equipment. Outdoor Recreation offers economical ski trips and packages to ski resorts in Austria, Italy, Switzerland, France and the Edelweiss Lodge and Resort in southern Bavaria. The recently opened two-floor Arena Entertainment Center with 16 bowling lanes also has rooms for special events such as birthday parties and conferences.
Information, Tours and Registration (ITR)
Offers a variety of moderately-priced leisure time experiences, including cultural tours, cooking classes and wine tasting. ATC also sells city bus tickets and tickets to regional events, shows and concerts.
Club Veneto
Offers snacks, burgers and finger food, plus occasional live bands, and family specials.
Health Services
The Primary Care Clinic (PCC) is available to the community for immediate care and appointment patients. Though it is not an emergency room, it does have a birthing center and is capable of treating acute minor illnesses and lacerations and conducting screening after discharge from an Italian medical facility. The dental clinic provides general dentistry and specialty treatment to authorized individuals. Veterinary Services include animal disease prevention and control, issuance of health certificates and vaccinations.
Schools
The program at the Vicenza Elementary School includes art, music, physical education, media services, host nation, counseling, a school-wide enrichment program, English as a second language, compensatory education and nursing services. The school has an Italian language immersion program in grades K-4 as well as a Sure Start program.
Vicenza High School offers the DoDEA curriculum. In addition to classroom teachers it has specialists for Talented and Gifted, Learning Impaired, English as a Second Language, Cooperative Work Experience and Guidance programs, an information specialist and a school nurse. Activities include varsity sports, forensics, drama club, model senate, student council, yearbook, band, chorus and special interest clubs. Both the elementary school and high school also offer an array of co-curricular activities. All teachers and specialists have computers in their rooms.
Community Services
The Army Community Service (ACS) center offers various programs and services for soldiers, civilians and family members; parent education classes, financial maintenance classes, relocation information and support, mobilization and deployment support, employment services, Army Emergency Relief (AER) and volunteer programs. Many courses (drama, cooking, yoga, etc.) are offered through SKIES. WiFi wireless technology is offered in the bowling alley and at Café Centrale, an internet café serving snacks.
Chapel
The Caserma Ederle community chapel offers Catholic, Protestant, Lutheran and Gospel services. It also sponsors Club Beyond, a non-denominational organization for youth.The chapel and Information, Tours and Registration can provide detailed information on local religious activities and special tours of the Vatican during the Easter and Christmas seasons, plus a schedule of Papal Masses.
Scouting
There are active scouting programs for both boys and girls. They advertise and recruit members through the schools, libraries, youth activity centers, media and various other institutions.
Single Soldier Support
Most single soldiers live on post in new or newly renovated buildings that offer "suite-style living." Quarters also have common areas for recreational activities and cooking. Soldiers may purchase Internet hookup in the barracks.
Shopping
The Vicenza Exchange is the largest mall complex (over 80,000 square feet) south of the Alps. The beautiful complex offers a full service main store, a one-hour photo shop, optical shop, specialty vendors, PowerZone, food court, beauty/barber shop and Italian gift shop. Additional AAFES facilities in the area include car sales, flower shop, car rental, Burger King, military clothing sales/tailor shop, launderette/dry cleaners, shoppette, theater and auto parts/garage. It also sells gas and oil coupons for Italy. The full-service commissary's offers the latest in meat, produce and hot food deli sections.
Library
The Library has fiction and nonfiction book selections, reference materials, travel guides, videos, educational resources, children's books, magazines and computers with internet access. It also offers a homework room for youth after school.
Housing
The U.S. Army Garrison, Vicenza, is under a mandatory assignment policy for Government-control housing. Accompanied service members will be placed on the appropriate waiting list for government family housing, based on their rank and bedroom requirement. If government quarters are not projected to be available within 30 days, these families will be authorized to seek off-post private rental housing.
Music and Theater
The award-winning Soldiers' Theatre gives community residents the opportunity to apply their talent in a variety of areas, including acting, singing, dancing, designing costumes and sets, lighting and theatrical production. A full season of plays, musicals and classes are scheduled during the year.
Ederle Inn
At the Ederle Inn on Caserma Ederle, each room has a private bath, microwave, sink and refrigerator. VIP suites are also available. As of this writing it was undergoing renovation and only 90 rooms were available.
The Army Post Office (APO)
The Army Post Office (APO) is a full-service facility, providing parcel service and transport of all classes of mail from priority to express. It also transports mail for free from APO to APO when "MPS" is written in the upper right corner of envelopes and packages.
Banking
There are three banks: Global Credit Union, Community Bank and an Italian bank: Banca Nazionale del Lavoro. All three are full service, and automatic teller machines (ATMs) offer 24-hour service for deposits and withdrawals from both checking and savings accounts.
Auto Craft Shop
The $2.2 million Vicenza center has eight bays and offers assistance in performing automotive maintenance and repair. Equipment, tools and trained mechanics make everything, from charging a battery to major overhauls, possible at great cost savings.

Car Sales

Pre-owned cars, locations in Germany and Italy
Car/Vehicle Insurance

Insurance for US Military, BFG and other NATO forces
DoD Contractors/
ID Card Holders - Business & Employment Advice

Business consulting for DOD contractors and ID card holders
Pet Shipping

Pet Transport and Relocation Experts
Getting Married in Denmark

Marry Abroad Simply
Living in Germany

A Guide to Living and Working in Germany