India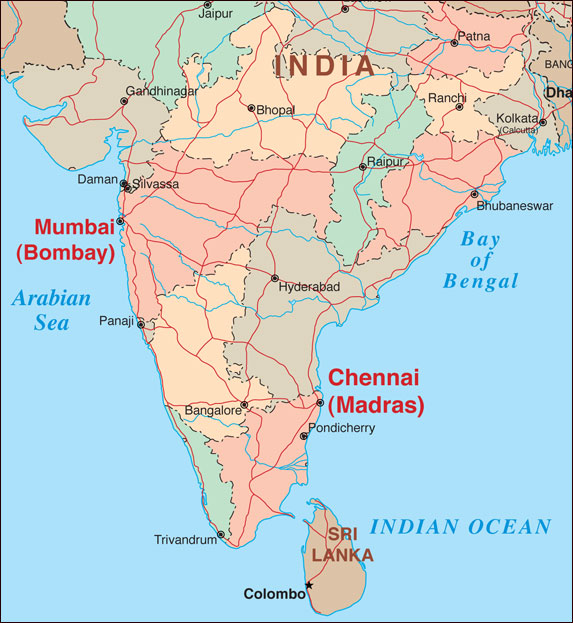 India is the seventh largest country in the world by geographical area, the second most populous and the most populous democracy. Gradually annexed by the British East India Company from the early eighteenth century and colonized by the United Kingdom from the mid-nineteenth century, India became a modern nation state in 1947 after a struggle for independence.
Sights abound in India, from the Taj Mahal to the Himalayas. Its wildlife is intriguing; tigers and elephants, cobras, peacocks and rhinos. Human activities have greatly reduced the numbers of these creatures, but the country now has a system of national parks aimed at preserving them. Safaris to observe them are popular.
The Indian currency is the rupee, worth about 40 to the U.S. dollar. Banknotes come in denominations of 10, 20, 50, 100, 500 and 1000 rupees, and there are coins worth 1, 2 and 5 rupees.
PORT OF CALL
Mumbai
Mumbai, as Bombay is now known, is India's largest, most energetic city. It has some of the finest restaurants and street food on the planet, and is a shopaholic's heaven, with eclectic markets and bazaars.
Its defining landmark is the Gateway to India arch, from which boats cast off for Elephanta Island. A UNESCO World Heritage Site, Elephanta is famous for its ornate cave temples and devotional carvings, hewn from basalt rock some 15 centuries ago. Mumbai's favorite recreation area is the Chowpatty Beach, sort of an Indian style Coney Island. Vendors there sell bhelpuris (puffed rice snacks) and other Indian delights.
Mumbai is also the center of the Hindi film industry, better known as Bollywood (Bombay + Hollywood), whose productions are seen by more persons worldwide than Hollywood's.

Car Sales

Pre-owned cars, locations in Germany and Italy
Car/Vehicle Insurance

Insurance for US Military, BFG and other NATO forces
DoD Contractors/
ID Card Holders - Business & Employment Advice

Business consulting for DOD contractors and ID card holders
Pet Shipping

Pet Transport and Relocation Experts
Getting Married in Denmark

Marry Abroad Simply
Living in Germany

A Guide to Living and Working in Germany