USAREUR
• US Army, Europe
USAG Benelux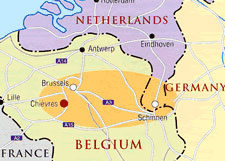 Army communities in the Benelux have been declared enduring locations by USAREUR, and are expected to be around after the present transition program has run its course. U.S. Army Garrison Benelux, headquartered at Caserne Daumerie, Chièvres, Belgium, provides base operations support in Belgium, the Netherlands and the Northwest German States of Nordrhein-Westfalen, Niedersachsen, Bremen, Hamburg and Schleswig-Holstein. It supports Americans across a seven-nation footprint that also includes Luxembourg, France, the United Kingdom and Poland.
Chièvres Garrison supports a joint-service community of more than 4,500 Americans who live across its three installation area which includes Caserne Daumerie, Chièvres Air Base and SHAPE (located about 12 miles away).
This tour is different from any other in the Army because of the operational support provided to the NATO communities. Many of the facilities and services are geographically separated with some located on the US Army installations and some on the NATO/Joint Services installation.
For further information check USAG Benelux's website at www.usagbenelux.eur.army.mil.
Facilities and Services
Sport and Fitness
Sport and fitness facilities at Chièvres and SHAPE offer Nautilus, cardiovascular and free-weight equipment instruction, aerobic fitness rooms, weight rooms, saunas, and full-size racquetball courts. Intramural programs include softball, flag football, basketball, soccer and volleyball.
Bowling
The 12-lane center at SHAPE has some of the most modern and advanced equipment in today's bowling industry. It also has a pro shop, automatic scoring, television, slot machines, video arcade and snack bar.
Clubs
The Patriot Lounge on Chièvres Air Base, the Prime Time Lounge at Daumerie and the SHAPE Club offer an array of activities throughout the year.
Health Services
The SHAPE clinic for the most part accepts patients for routine care, with services such as family practice, OB/GYN, allergy/immunizations, optometry, ophthalmology, physical therapy, preventive medicine and psychiatry services, as well as radiology, laboratory and pharmacy services. Some of these functions may be performed by host-nation facilities. Routine dental care usually is also available. Patients requiring inpatient care or care beyond the capability of the local facilities are referred to the U.S. Army Regional Medical Center in Landstuhl, Germany, or to a host nation hospital. Limited veterinary services are also available.
Schools
Chièvres Garrison school-age children attend SHAPE American elementary and high schools, which are unique, operating within an international community on an international calendar. They are operated by Department of Defense Dependents School (DoDDS).
Community Services
The Army Community Service (ACS) center offers various programs and services for soldiers, civilians and family members; parent education classes, financial maintenance classes, relocation information and support, mobilization and deployment support, employment services, Army Emergency Relief (AER) and volunteer programs. Child Development Services provides full service, center-based child care, the Family Child Care (FCC) program, the School Age Services (SAS) program and respite child care for service members in pay grade E-4 and below. Youth Services operates a sports and fitness program for organized seasonal sports. Volunteers are an integral part of every community. Volunteer experience offers great potential for self-fulfillment and may also be reflected on resumes for future job employment.
Religious Activities
Chièvres Garrison has two chapels servicing the USAG Benelux community, one located on SHAPE and the other on Caserne Daumerie. A retreat center is located above the Family Life Center on Caserne Daumerie.
Scouting
There are active scouting programs for both boys and girls. They advertise and recruit members through the schools, libraries, youth activity centers, media and various other institutions.
Better Opportunities for Single Servicemembers (BOSS)
This program is designed to bring single members' quality of life in line with their married counterparts. Billets afford them more living space so they may decorate to their own tastes and include amenities such as floor kitchenettes, private facilities, fitness equipment and government furnishings. It also involves single personnel in recreational travel and community help programs.
Shopping
A relatively new commissary at Chièvres is twice as large as the old commissary and encompasses a modern sales area, produce and meat departments and a deli/bakery that will include a rotisserie. There is also a 58,000 square foot AAFES store, plus a food court. International shopping facilities at SHAPE consist of a department store with grocery and hardware sections, a flower shop, a barber and beauty shop, a bookstore, a laundry pick-up point, a rationed items store for cigarettes and alcohol, a snack bar, video rental, optical sales store, travel services, a Belgian bank and a service station.
Libraries
The SHAPE International Library is a multi-purpose facility serving as a lending library, reading room, cultural center and computer center. The library has collections in the NATO languages. There is also a US Army library at Chièvres.
Music and Theater
The SHAPE Entertainment Center provides year-round opportunities for members of the USAG Benelux community of all ages to display or develop their talents behind the scenes or on stage. The SHAPE Cinemas shows a variety of American films, including first run movies.
Arts and Crafts
The center at SHAPE provides many opportunities for crafters, including quilting, framing, sewing, engraving and painting.
Housing
One of the most important components of USAG Benelux quality of life efforts is U.S. family housing, available for junior and senior enlisted persons at Chièvres. There is also unaccompanied personnel housing for single enlisted soldiers. There is no U.S. family housing available for officers, but the housing referral office assists in locating and leasing suitable housing on the economy.
Lodging
Chièvres has a new Lodge with air conditioning, high speed internet connections and satellite TV with DVD players. The 94-room facility opened in 2009.
Army Post Offices (APOs)
The Army Post Offices (APOs) at Chièvres and SHAPE are full-service facilities, providing parcel service and transport of all classes of mail from priority to express.
Banking.
Chièvres Garrison has a branch office of Andrews Federal Credit Union. There is also Fortis Bank at SHAPE.
Auto Craft Shop
A new Auto Craft Shop at Chièvres Air Base opened in 2010. The facility offers assistance in performing automotive maintenance and repair. Equipment, tools and trained mechanics will make everything, from charging a battery to major overhauls, possible at great cost savings.

Car Sales

Pre-owned cars, locations in Germany and Italy
Car/Vehicle Insurance

Insurance for US Military, BFG and other NATO forces
DoD Contractors/
ID Card Holders - Business & Employment Advice

Business consulting for DOD contractors and ID card holders
Pet Shipping

Pet Transport and Relocation Experts
Getting Married in Denmark

Marry Abroad Simply
Living in Germany

A Guide to Living and Working in Germany