USAFE
• US Airforces in Europe
Portugal
(Azores)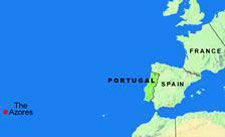 Lajes
The Azores are a group of islands located in the North Atlantic Ocean about 2,200 miles east of New York City and approximately 850 miles west of Lisbon, Portugal. Lajes Field is located on the northeast tip of Terceira, an island, almost entirely bordered by high cliffs. The 65th Air Base Wing, the American unit stationed at Lajes, enables the movement of warfighters, warplanes and global communications to combatant commanders.
The Azores were long an outpost of Portuguese power. Their strategic position between North America and Europe was especially important during World War II. Lajes Field was activated in 1943 when the British obtained permission to construct an airfield on Terceira Island. In late 1943. the United States began stationing personnel there along with the British.
SERVICES & FACILITIES
Sport and Recreation
There is an extensive sports program at Lajes with year-round intramurals in just about any sport. The Chace Fitness Center has lots of state of the art equipment, the Outdoor Recreation Center carries a wide variety of items for checkout, there is a 16-lane bowling alley and a skating rink on base and a beautiful 18-hole golf course seven miles from the base.
Religious Activities
The Lajes Field Chapel, on main base, offers Protestant, Evangelical and Catholic services on Sunday. Other faith groups, including Eastern Orthodox, Jewish, Islamic and Buddhist, need to contact the chapel directly for further information. Other activities include Sunday School, Bible study groups, adult and children's choirs, and a variety of groups, including Protestant Men, Women, Singles and Youth of the Chapel. Off- base worship opportunities include Baptist, Church of Christ, Seventh-Day Adventist, Church of Latter-Day Saints, and independent Christian fellowships.
Schools
The Education Services Center is the focal point for all education programs at Lajes Field. A professional guidance counselor is available for both active duty and family members. College level courses are offered through the University of Maryland, the University of Oklahoma, Embry-Riddle Aeronautical University and Central Texas College. There is a combined DoDDS elementary school and high school on base.
Health Services
On base services are clinic based services. Angra Hospital, the Portuguese national hospital on the island, is located about 20 minutes from the base and offers all necessary in-patient and emergency services to US personnel. Patients requiring special care beyond local professional capabilities are aeromedically evacuated to CONUS or Europe. Dental care is available, but limited and even more so for family members and retirees. Orthodontic maintenance is provided by a visiting orthodontist on a quarterly basis.
Veterinary Services
The Lajes Vet Clinic offers a variety of services. A veterinarian visits every 4-6 weeks for surgical procedures and advanced pet care. Emergency and non-emergency services are also available through local English-speaking veterinarians. The on base kennel, Atlantic Island Kennel, offers a clean and convenient boarding environment for dog and cat owners.
Housing
There are 416 Military Housing units located at Lajes field. There are 80 officer units and 336 enlisted units. Housing units are equipped with heating systems and air conditioning. There is usually a waiting period for government quarters. The housing off base is very affordable, though it usually doesn't meet the standards that we have come to expect in the states.
Transient Lodging
The Mid Atlantic Lodge offers affordable and comfortable alternatives to local hotels and pensions.
Teen Programs
Programs includes sports, dances, tours, birthday parties, games, tournaments and crafts.
AAFES Exchange
The AAFES Exchange offers clothing, home supplies, cosmetics, linens, household wares and appliances, sporting goods, tools, toys, and crafts. Other AAFES facilities on base include a gas and service station, Class VI, Shoppette, theater, barber shop, military clothing sales, beauty shop and new car sales.
Commissary
Besides the grocery department there is a bakery, meat department, delicatessen and produce department. The Commissary stocks over 4,000 semi-perishable items and some 1,000 perishable items.
Banking
The Pentagon Federal Credit Union has a branch at Lajes. There is an ATM located outside the Credit Union and one in the passenger terminal that dispenses dollars, while the ATMs at the Portuguese Terminal, Outdoor Recreation and BX dispense euros. Personal checks can be cashed at the Base Exchange and the club. Additionally, money order service is available at the Base Exchange and the Post Office.
Commercial Travel Office
The Commercial Travel Office can assist with travel arrangements between the Azores and the United States, Europe and other continents, as well as make hotel and rent-a-car reservations.
Clubs
The Top of the Rock Club caters to both officer and enlisted personnel, their families and some Portuguese civilians. It offers two small lounges, one for officers and one for enlisted, as well as a main ballroom and a dining room.
Library
The Base Library has some 48,000 books for adults, children and teens. It also maintains selections from the best-seller list.

Car Sales

Pre-owned cars, locations in Germany and Italy
Car/Vehicle Insurance

Insurance for US Military, BFG and other NATO forces
DoD Contractors/
ID Card Holders - Business & Employment Advice

Business consulting for DOD contractors and ID card holders
Pet Shipping

Pet Transport and Relocation Experts
Getting Married in Denmark

Marry Abroad Simply
Living in Germany

A Guide to Living and Working in Germany