NSA Bahrain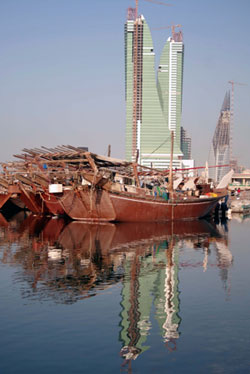 Photo: ©iStockphoto.com/Tanya Clyde
Manama, the capital city of Bahrain, is the home to U.S. Naval Forces Central Command and 5th Fleet headquarters. The United States has increased its access and its forward presence in Bahrain since the Gulf War, while trying to keep its footprint to a minimum.
The port and Navy base at Juffairare are about five miles southeast of Manama, which lies on a small peninsula at the northeast corner of Bahrain's principal island. The base provides onshore offices for the Navy's 5th Fleet, which has aircraft carriers, destroyers and other ships stationed in the Arabian Sea and Arabian Gulf. Maritime intercept operations enforce the UN sanctions on Iraq.
NSA Bahrain population consists of approximately 1,500 military personnel and DOD Civilian employees directly assigned to NSA Bahrain and approximately 3,000 personnel assigned to Tenant Commands, as well as Joint and Coalition Forces.
For more information about Bahrain, try its website at www.cusnc.navy.mil.
FACILITIES AND SERVICES
Housing
The Navy Housing Welcome Center (Family Housing Office) will offer assistance in finding a place to live.
MWR
There is an active MWR program offering a variety of activities for both the military service member as well as family members. There is a bowling center, recreation center for single service members, ITT Office, Internet Café and Outdoor Recreation Center.
Education Facilities
Navy PACE provides accredited college courses for service members. On-site University of Maryland and Central Texas Colleges offer courses for Associate and Bachelor degrees. Local private schools and universities are available, but they are quite expensive for non-Bahrainis.
DoDDS Schools
The Bahrain Elementary/High School (K-12) is unlike any other school in the DoDDS system. In addition to the children of personnel from the military and other U.S. agencies, students and youth from about 50 countries attend the school as well.
Medical Facilities
The Medical and Dental Treatment Facility is an outpatient medical clinic, which provides primary medical and dental care to all active duty personnel and their family members.
Fleet & Family Readiness
There are numerous programs to support servicemembers and their families. The Fleet and Family Support Center offers counseling and services in relocation assistance, transition assistance, and personal financial management. The Housing Welcome Center provides services in locating a residence on the local economy or in the bachelor quarters on base.
Youth Services
There are child and youth programs that include a Child Development Center, School-Age Care Program and a Teen Center.
Clubs
The Freedom Souq has TV and gaming lounges and Internet Wi-Fi hotspots.
Banking
The Navy Federal Credit Union in the Freedom Souq offers all the services of branches in the U.S. including withdrawals, deposits, and transfers, loans, mortgages, credit cards, and traveler's checks.
Lodging
The Navy Lodge Bahrain offers in-room phones with message service, television with basic cable, clock radio/alarm, video cassette player, microwave and refrigerator.
Shopping
A recreation and shopping center called the Freedom Souq has a Navy Exchange, a food court and a small supermarket. There is no separate commissary on base. Souq is Arabic for a market or bazaar.

Car Sales

Pre-owned cars, locations in Germany and Italy
Car/Vehicle Insurance

Insurance for US Military, BFG and other NATO forces
DoD Contractors/
ID Card Holders - Business & Employment Advice

Business consulting for DOD contractors and ID card holders
Pet Shipping

Pet Transport and Relocation Experts
Getting Married in Denmark

Marry Abroad Simply
Living in Germany

A Guide to Living and Working in Germany