Singapore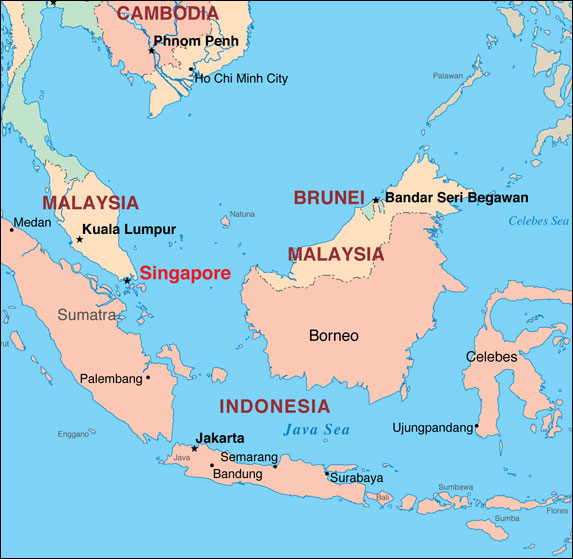 Singapore, at the tip of the Malay Peninsula, has been a stopping point for explorers and traders for hundreds of years. There is no U.S. Navy base there, but it has been been making use of existing Singapore facilities since the 1960s for maintenance, repairs, supplies, and crew rest and recreation. More than 100 U.S. Navy ships call at Singapore yearly, and U.S. fighter aircraft regularly deploy there.
Singapore consists of one main island and several smaller islands and has a population of just over 4 million. It's about 60 miles north of the equator and is hot and humid year-round. A dynamic urban environment with entertainment and dining, modern well organized museums and shopping provides plenty of action. It is an important and very enjoyable port of call for the Seventh Fleet.
Much of its attraction can be attributed to a cultural diversity that reflects its colonial history and Chinese, Malay, Indian and Arab influences. Impressive skyscrapers and gleaming malls contrast with the traditional Chinatown and Little India. Chinatown is an exotic area with a night market, shops, and restaurants open from early to late. The spice shops and other Indian goods of Little India will give you the feeling you are in India.
A lot of the food in Singapore is sold by street hawkers, who ply the public with tempting Malayan, Chinese and Indian delicacies. Restaurants are also multicultural. There are whole streets where Chinese, Malay, Indian and Peranakan eateries rub shoulders with their Japanese, American, French, Mexican and Mediterranean counterparts.
Boat Quay and Clarke Quay, both bordering the Singapore River, are lined with colorfully restored warehouses turned into restaurants. From your riverside table, you can watch Chinese junk boats shuttle passengers to and from the two quays against a backdrop of skyscrapers. The Quays are also lined with bars and clubs, so be prepared for a good blast of pop music when you're in the vicinity.
The Singapore Zoo has a Night Safari that allows people to explore animal habitats at night without any visible barriers between guests and the wild animals. Pulau Ubin, a small island off the northern coast of Singapore has long been a favorite haunt of locals seeking a break from the humdrum of urban life. Rustic villages dot the island, remnants of its heyday when thousands of people settled there to work the granite quarries.
An expansive shopping precinct, with multistory centers, is located in the Orchard Road district, which also has many hotels and is the main tourism center of Singapore. The local populace also uses Orchard Road for shopping extensively.
The government and the people have extended their warm welcome and friendship to the personnel of the U.S. Navy. But they are conservative in their dress and demeanor, and are alienated by extreme dress style. They consider unkempt personal appearance to be offensive. The sale or importation of chewing gum is prohibited, because of the mess it makes when discarded.
In recent years some societal restrictions have loosened up, and now you can bungee jump and dance on bartops all night long. Gambling casinos will be opening up in about 2009 as part of Singapore's new fun and entertainment drive, the aim being to double the number of tourists visiting and increasing the length of time they stay. Watch out for more loosening up in the future.
The Air Force runs an Armed Forces Community Center called the Eagle Club, with most amenities found at stateside open messes. Personnel from the U.S. Navy, and the British, Australian and New Zealand forces also enjoy it. It has a full service lounge, a restaurant with western menu, slot machines, an internet café and a multipurpose room. American Forces Network TV can be received via cable.
Singapore is an accompanied tour area with concurrent travel of dependents authorized. On-base housing is authorized for accompanied personnel at GS-7 and above. The current waiting period is twelve to twenty-four months.
Singapore was named in the 14th Century by a Malayan prince who called it Singapura, after an animal he saw there. The name translates as "lion" though it was probably a tiger that he saw. Sir Thomas Raffles arrived there in 1819 as an agent of the British East India Company, founding a trading post and fort. In 1824, the British purchased Singapore Island, and by 1825 the city was flourishing as a major port.
The Japanese conquered the island in 1942, and museums tell the story of this time and other aspects of Singapore history. Independence from the British was gained in 1965. Immigrants have arrived into Singapore from surrounding countries and the current ethnic mix is Chinese 77 percent, Malays 14 percent and Indians 8 percent.

Car Sales

Pre-owned cars, locations in Germany and Italy
Car/Vehicle Insurance

Insurance for US Military, BFG and other NATO forces
DoD Contractors/
ID Card Holders - Business & Employment Advice

Business consulting for DOD contractors and ID card holders
Pet Shipping

Pet Transport and Relocation Experts
Getting Married in Denmark

Marry Abroad Simply
Living in Germany

A Guide to Living and Working in Germany