Germany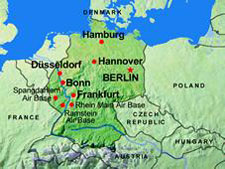 RAMSTEIN
Ramstein, which has been cited for providing excellent working, housing and recreational conditions for its people, is the headquarters of the United States Air Forces Europe. It exercises day-to-day command and control over all USAFE units from Great Britain to Turkey.
Additionally, it fosters a family-friendly installation for more than 53,000 Americans living in the Kaiserslautern Military Community. It is located in the federal state of Rheinland-Pfalz in the southwest corner of Germany, the country's main wine growing region and also the location of its largest unbroken stretch of forest, the Pfalzerwald.
Ramstein, Vogelweh and Sembach are the predominately Air Force communities within KMC. Other elements, mainly Army, are Kleber, Panzer, Daenner, Miesau, Pirmasens, Rhein Ordnance Barracks and the Landstuhl Army Regional Medical Center.
The 86th Airlift Wing is the host unit at Ramstein. The base also houses North Atlantic Treaty Organization (NATO) Allied Air Component Command headquarters. Canadian, German, British, French, Belgian, Dutch, Polish, Czech, Norwegian and Danish military personnel are stationed there in addition to the Americans.
The base's history began in 1951 with its construction under the provisions of a reciprocal agreement with the French, who then occupied the area. It became USAFE headquarters in 1973, when the command moved there from Wiesbaden. Originally a fighter base, Ramstein's mission changed in 1994 to that of an airlift base.
Kaiserslautern is an international city with more than 108,000 inhabitants. There are many cultural activities including a year-round offering of operas, musicals and plays. Two museums house a rich collection of Palatinate history, folklore and art.
To step back into history, you can also visit the centers of such nearby old Roman towns as Koblenz, Trier, Mainz and Worms. The mid-Rhenish valley with its many castle ruins is one of the most beautiful German landscapes, and conspicuous features of the mountainous Eifel landscape are the almost perfectly circular volcanic lakes.
For more information visit the base's website at www.ramstein.af.mil.
SERVICES and FACILITIES
Sports and Recreation
Sports enthusiasts have a choice between four Fitness Centers in KMC. Two of them are on Ramstein, each with a basketball court, weight lifting rooms, saunas, locker and shower facilities for men and women and racquetball courts. A full range of intramural and base-level sports programs are offered. The Outdoor Recreation Center can supply camping, picnic and backpacking equipment, downhill and cross country skis, auto carrying devices and various winter items throughout the year. Annual events include a sanctioned Volksmarsch and a family bike rally. Water sports, skiing, bicycling, canoe trips, horseback riding, rock climbing and castle hikes are a few of the other programs available. Bowling. Centers are located at Ramstein, Vogelweh and Sembach. Each center has a snack bar and two have pro shops.
Red Cross
Red Cross services on base include verification of death or sudden illness, birth announcements and health and welfare reports.
The Teen Center
The Ramstein-Vogelweh-Sembach Youth Activities Program is the largest in Europe, offering sports, dances, tours, birthday parties, games, tournaments and crafts.
Schools
There are 11 schools in the Kaiserslautern Military Community, making it the largest American school system outside the Continental United States. The schools are Ramstein Elementary School (K-3), Ramstein Intermediate School (4-6), Ramstein Junior High School (7-9), Ramstein High School (10-12), Vogelweh Elementary School (K-5), Kaiserslautern Elementary School (K-5), Kaiserslautern Middle School (6-8), Kaiserslautern High School (9-12), Sembach Elementary and Middle (K-8) and Landstuhl Elementary & Middle (K-8).
All schools are located near government housing areas. The school your children attend will depend on where you live, not where you work. Students who live on base walk to school; all others ride the bus. School bus transportation is provided by government contracted buses. It is recommended that before you rent quarters on the economy you check with the housing office to determine if the residence is along an established school bus route.
Health Services
Ramstein, like most military installations in the Kaiserslautern Military Community, maintains a clinic on the installation itself. Although many specialties are available at Ramstein, all in-patient care is at Landstuhl Regional Medical Center (15 min away). Clinics at Ramstein and Sembach provide dental care for non-flying military members and their families. Dental care for family members is limited because of space limits and the needs of the active duty population.
Veterinary Clinic
There is an Animal Clinic at Vogelweh, but it is a good idea to find a German Veterinarian in case of after hours emergencies.
Local Television
Where you live and the type of television you have will affect whether you can receive the American Forces Network (AFN) and/or the German stations without elaborate conversions. You will need a multi-standard television to receive German channels.
Shopping
The Ramstein Exchange and Commissary are among the largest in Europe. The exchange has a good selection of house wares, electronics, toys/games, gardening and sporting goods, and operates numerous facilities, including a gas station and movie theaters. Concessions include Taco Bell, Robin Hood and Burger King. Present facilities pale, however, in comparison to the mega Community Center, a retail and entertainment now under construction at Ramstein and slated to offer state-of-the-art shopping, dining and entertainment options.
Music and Movie Stores
There are four MOMS outlets located in the KMC area, offering the latest music releases, from country to classical, the newest movie releases for rent and a complete line of electronic equipment.
Theater
Ramstein has two movie theaters, Vogelweh and Sembach each have one movie theater. The Vogelweh Community Activities Center is the stage for community theater plays performed by the Vogelweh Players.
Clubs
Ramstein has an Officer's Club and an Enlisted Club. Sembach has a combined club and Vogelweh has an Enlisted Club. Rod and Gun Club offers sportsmen and sportswomen a chance to participate in international shoots, local tournaments and organized monthly activities, and also has a sporting goods store, paintball range, restaurant and lounge.
RTT Destinations Unlimited
RTT Destinations Unlimited is a full-service leisure travel agency.
Skating Rink
The Skate Express offers open skating for all ages. In addition, it has a snack bar, video games and equipment sales and rental.
Transient Lodging
The Ramstein Inn has three facilities on the base, and others at Vogelweh, Landstuhl and Sembach.
SPANGDAHLEM AND BITBURG ANNEX
Spangdahlem Air Base is located about 20 miles northeast of the city of Trier in the southwest section of Germany along the borders with Belgium, Luxembourg and France. The Bitburg Annex, which adds to base space and facilities, is located about 10 miles from Spangdahlem in the city of Bitburg. The local area is primarily agricultural, and its most famous products, to the delight of imbibers, are beer and Mosel wine.
Spangdahlem is a small village, but the larger cities of Wittlich, Trier and Bitburg are close by. It is close to the Nürburgring, a Mecca for motor sport enthusiasts. The climate is generally cool with light rain and fog common. The temperature range in winter stays close to freezing, while summer temperatures hover between the 60s and the upper 70s.
The area is the home of one of Germany's most famous beers. The Bitburger Brauerei is the region's largest employer with 200 years of tradition. It is one of the country's three largest breweries.
For more information on Spangdahlem visit the website at www.spangdahlem.af.mil.
SERVICES AND FACILITIES
Airman & Family Readiness Center
The Airman & Family Readiness Center (A&FRC's) primary focus is to support readiness by helping families and single military members adapt to the demands of Air Force life and to assist commanders in responding to identified concern and issues. The center designs, develops and conducts quality of life programs according to base and community needs and capabilities.
Sports and Recreation
The whole region is a "sportsman's paradise" with activities in Luxembourg, Belgium, Holland and France, all of them less than two hours from your doorstep. Outdoor Recreation at Spangdahlem offers rock climbing and rappelling, sea kayaking, downhill and cross country skiing, deep sea fishing, scuba diving, snowshoeing, mountain and trail bicycling, river rafting, river canoeing, weekend camping and hiking. It also offers equipment rental for a large variety of camping and sporting activities.
The Skelton Memorial Fitness Center is very large and serves the Eifel community from two locations, one at Bitburg and one at Spangdahlem. It has a gym, nautilus equipment, free weights, racquetball courts, lifecycles, Stairmasters, rowing machines, saunas, a jacuzzi, aerobics, intramural sports programs and recreation leagues. The base also has outdoor tennis courts, a nature trail and a track.
Music & Video Xpress
Music & Video Xpress is a specialty store offering video rental and used books at the Bookmart. It also offers musical instruments; guitars, band and DJ equipment from picks to pedals and a whole lot more. The Eifel Line concessionaire offers computers and satellite equipment including custom built computers, software lines and hardware upgrades. They also offer a large selection of satellite receivers and decoders.
Eifel Mountain Golf Course
The Eifel Mountain Golf Course at Spangdahlem is a challenging nine-hole course that also offers club and cart rentals, a pro-shop, a great snack bar, chipping and putting greens, summer junior golf programs, monthly tournaments, ladies golf league, golf lessons and a handicapping program.
Eifel Lanes Bowling Center
Whether you are a seasoned bowler, a complete novice or just interested in having a good time, the Eifel Lanes Bowing Center has much to offer. It's the place for special events, good food and a fun and exciting atmosphere. If you like to show off your skills as a competitive bowler, join one of the many intramural leagues.
Education
The Base Education Center's programs include: Professional Military Education, Community College of the Air Force, professional examinations (GRE, GMAT, etc.), financial aid information and commissioning programs. Degree programs are offered from the University of Oklahoma, the University of Maryland, Central Texas College, the University of Phoenix and Embry-Riddle Aeronautical University.
DODDS operates schools at Spangdahlem and the Bitburg Annex. The High School, located only at the Bitburg Annex, is for grades 9-12. The elementary schools are for grades K-4 and the middle schools are for grades 5-8. Americans can use the local German schools; however German language skills are needed beyond kindergarten. German kindergartens are the most frequently used of all the German programs by Americans. The older the child, the more German language skills are necessary.
Health Services
The 52nd Medical Group consists of aerospace medicine, dental, medical operations and medical support squadrons providing services split between Spangdahlem AB and Bitburg Annex. The medical group operates an outpatient clinic at Spangdahlem AB that includes family practice, pediatrics, women's health, psychiatry, aerospace medicine and optometry with exceptional clinical laboratory, radiology, pharmacy and physical therapy support. The 52nd Medical Group hospital, located on Bitburg Annex, provides emergency, obstetrics, gynecology and various surgical services. Group dental services include general dentistry, oral surgery, periodontics, orthodontics and prosthodontics. There is a strong partnership with community hospitals.
Veterinary Services
There is one veterinarian for the base, as well as a number of veterinarians in the local area. The base veterinarian is only available during duty hours. For after hour emergencies you will need to contact a local veterinarian for assistance. The veterinarian clinic and Pet Spa have a list of local veterinarians.
Religious Activities
There are two chapels to serve the community, one on the main base and one at the Bitburg Annex, offering a variety of worship services for Roman Catholic and Protestant denominations. There are also worship services off base in which the community is welcome to participate.
Red Cross
Red Cross services on base include emergency notification/verification of death or sudden illness, birth announcements and health and welfare reports.
Eifel Teen Center
The Eifel Teen Center is located at the Bitburg Annex within easy walking distance from both the Middle and High Schools. The teen center is one of the largest in the Air Force and boasts a snack bar, large game room, technology center and Internet gaming center. In addition there is a dance hall and meeting center in the facility. The center is open Monday to Thursday from 1500-2000, Friday from 1500-2230 and Saturday from 1700-2230. A variety of programs, trips and events are guaranteed to keep your teens busy.
Shopping
Facilities at Spangdahlm and Bitburg include a Shoppette, a Class Six store, video rental, military clothing sales store, Burger King, Anthony's Pizzas, Subway, Cinnabon, Charley's Steakery, Baskins Robbins, Gas Station, Barber and Beauty Shop, Photo Express, alterations shop, Car Care Center, car rentals, new car sales, Service Mart (dry cleaners), flower shop and the Castle snd Skyline theaters.
Commissaries
Commissaries are located at both Spangdahlem and Bitburg, offering a variety of grocery and produce items as well as a bakery, deli and houseplants.
Clubs
The Club Eifel combined club at Spangdahlem offers several unique dining opportunities including a Pizza Hut and daily lunch buffets from 11 a.m.-1 p.m. featuring themed menus including the very popular Wednesday Italian buffets. JR Rockers Sports Café offers great food and a warm family atmosphere with food and drink specials. The Club offers evening programs four nights per week in the Enlisted Lounge and every Friday in the Officer's Lounge. Try the Family Fun Night every Thursday night. Win big at the slots or play one of the many amusement machines for fun. You can't afford not to be a member of Club Eifel.
Community Center
The Community Center at Spangdahlem has a very active Community Theatre Group (Act Eifel). Also available for your convenience in the Center are several concessionaires to include Hertz car rental, Sebastiani's wines and Toni's gift shop. An exciting entertainment center, The Brick House, is also a part of the Community Center and is open daily from 1600- 2400, and until 2 am on Friday and Saturday. Come check out the state of the art AV systems: 100-inch projection TV screens, 50-inch projection TVs, 21-inch TVs; full DJ audio; karaoke; satellite, DVD and VCR playback with Dolby 5.1 Surround. Also for your entertainment pleasure are X-Box systems configured on-line for multi-player and Internet gaming, billiards, foosball, air hockey, dome hockey, putting green, darts, ping-pong, shuffleboard, and a snack bar if you are hungry.
Skills Development Center
The Skills Development Center on Spangdahlem features a Crafts & Party Central retail sales outlet, (located in the Community Center), a custom frame shop, wood hobby shop and an engraving shop that offers plaques, T-shirts, mugs and embroidery services. Framing classes are conducted at Spangdahlem, and various arts and crafts classes are offered at both Bitburg and Spangdahlem.
Auto Hobby Centers
The Auto Hobby Centers provide you with high-tech automotive maintenance machinery, tools, supplies and work bays, coupled with well-trained mechanics on stand-by to assist you in vehicle maintenance or repair.
Information, Tickets and Travel(ITT)
Information, Tickets and Travel (ITT), located in the basement of the Community Center, offers full leisure travel services, including airline tickets, package tours and cruises.
Housing
Accompanied members may choose to live in government-controlled quarters or may live in the community. Both Spangdahlem and the Bitburg annex housing are set up as stairwell units. For two and three bedroom units, the wait is 30 days or less. For four bedroom units, the wait is approximately 45 days. Unaccompanied E4s with less than three years of service must report to Central Dormitory Management. SSgt selects and E4s with over three years of service will be living off base and can only stay in the dorms if space is available.
Lodging
The Eifel Arms Inn at Spangdahlem is open 24 hours a day, seven days a week.
GEILENKIRCHEN
AB Geilenkirchen is a North Atlantic Treaty Organization base, not a USAF installation, and is part of a military complex that also includes JFC Brunssum and the U.S. Army Garrison Schinnen, both a short distance across the border in the Netherlands.
The base is located in Teveren, Germany approximately four kilometers west of the town of Geilenkirchen in the tri-border region of Germany, the Netherlands and Belgium.
The NATO Airborne Early Warning & Control Force (NAEW&CFF) was created in January l980. On l7 October l980, NATO's Defense Planning Committee granted the command full status as a NATO headquarters. It is co-located with the Supreme Headquarters Allied Powers Europe (SHAPE), Belgium. Executive agent for the program is the Supreme Allied Commander Europe (SACEUR).
The Component consists of approximately 3,100 multinational military and civilian personnel from 15 nations (Belgium, Canada, Denmark, Germany, Greece, Hungary, Italy, Luxembourg, the Netherlands, Norway, Poland, Portugal, Turkey and the USA).
The Component's mission is to provide aircraft and trained aircrews to deliver a surveillance and/or control platform wherever and whenever directed by the NAEW&CF commander on behalf of the three major commanders.
SERVICES & FACILITIES
Sports and Recreation
Sports and Recreation falls under the Morale and Welfare Activities (MWA) Branch. It is responsible for the following areas: Sports Department, International Youth Activities, International Library, International Pre-School, Thrift Store and Clubs.
Morale and Welfare Activities
The Morale and Welfare Activities Branch, which falls under the Component Services Squadron, is responsible for all MWR-related activities. The Component clubs/societies available are as follows: swimming, ski, rod and gun, scuba diving, tennis, karate, line dancing, golf, and motorcycle riding. An outdoor swimming pool is available but only during the summer season, which runs from May through September.
Sports Department
The Sports Department offers a variety of sports locations to include two gymnasiums, cardio room, weight room, indoor basketball courts, indoor/outdoor volleyball courts, baseball/softball fields, outdoor track and field, running trails, squash courts, outdoor tennis courts, racquetball courts, soccer field, outdoor swimming pool, sauna whirlpool, and sunbeds. There are special events going on every month.
Health Services
The clinic provides limited outpatient care. No emergency room is available. Personnel living on the economy use the German or Dutch EMS system. Patients requiring evaluation or treatment beyond the capability of the clinic are referred to other U.S. military facilities in Europe or to doctors on the economy.
Pets
There is no quarantine for pets; however, they are not allowed in some guesthouses or hotels. Please inform your sponsor if you will be bringing pets. They must have rabies shots and certificates of health 30 days prior to but not more than one year prior to issuance of the health certificate. Importation of certain dogs is strictly prohibited. There is very limited military veterinary access provided; however, most local veterinarians provide similar services to US veterinarian offices and most speak English too.
Schools
The Geilenkirchen American School provides educational opportunities for children from kindergarten through sixth grade. AFNORTH International Junior High and High School, about 15 kilometers away in The Netherlands, offers education for family members of all personnel stationed at JFC Brunssum, Geilenkirchen and Schinnen. The school caters to American, Canadian, British, Dutch and German students. Bus service is provided to students attending either school.
The Component International Pre-School predominately operates on American guidelines. Priority is given to Component members (military or civilian). The school aims to prepare children of different nationalities, language levels and social skills for Kindergarten or any other form of further education in their home country.
Religious Activities
Services offered at the Chapel include Catholic Mass, Protestant and Jewish services and religious, marital and pre-marital counseling. There are also Bible studies, choirs, a women's group, a men's group, a youth group and crafts. It is not unusual for American families to become affiliated with churches within their villages.
Youth Activities
There is a Component International Youth Activities (IYA) Program, which offers After School Care, Special Day or Break, and Full Day activities for children 6-12 years old. It provides numerous youth teams, with help from base volunteers, for friendly competition with other local teams in soccer and baseball. Special instructional classes and family trips are also offered aside from the normal IYA programs.
Shopping
The Canadian-operated NATEX shopping facilities are similar to a small BX. The base also has a dry cleaner, a gas station and an auto service center with a selection of car parts and tires. These are mainly European stock, but quite a few Americans end up driving European spec cars anyway. And there is an AAFES Garage at Schinnen in the Netherlands (approx 25 minutes), that does carry American spec parts, tires and other car care items. There is also an auto hobby shop at JFC Brunssum. The nearest AAFES facility, at Schinnen, has a much more extensive selection of goods, and a number of concessionaires.
Commissaries
The NATEX Grocery Store offers a wide variety of German, Canadian, U.S. and other European food products. The nearest US commissary is at Schinnen.
Thrift Shop
The Thrift Shop sells or buys used household items, clothes, recreational equipment, books, jewelry and the like at very low prices.
Clubs
Clubs offer bars, slot machines and dining facilities with a wide selection of fast food items like pizza, soup, chicken and, of course, German cuisine. You can order your food to go. Family brunch is served every Sunday. Its location alternates between the Officers Club and the Frisbee (Enlisted) Club.
Dining Facility
The Component International Dining Hall is open to Component members (all ranks) only. Military and civilian personnel on official business at the Component may also eat at this establishment with prior approval. It serves over 800 meals a day in addition to flight meals for mission crews. No takeouts are available.
Library
The Component International Library is completely supplied through the USAFE Central Library System. Its collection consists of books, magazines, 10 language categories, audio/video tapes, music cds, DvD movies and the McNaughton Book Collection. There is another library at JFC Brunssum.
Banking
There is one automatic teller machine on base, at Dresdner Bank. This machine can access Cirrus, Plus, American Express, Master Card and Visa. If you open a base German bank account, you can get dollars, euros and other currencies. You can make deposits at Dresdner in U.S. dollars and cash checks at Finance Services for dollars or euros.
Other Facilities
Geilenkirchen has a small AAFES military clothing store with a few amenities such as toiletries, movies, electronics and magazines. There is a theater and an arts and crafts center at JFC Brunssum and a BX at Schinnen.
Billeting
Most personnel live off base. Billeting is mainly for single military, though others may be accommodated on a space available basis. There are shared bathrooms and no television or telephones. For these reasons these quarters are not recommended for long periods. Single personnel also have the option of staying off base in hotels or guesthouses.
TIME/MILEAGE CHART
The Chart below shows trip length in miles/time (hours:minutes) between major bases in Germany. Distances / times are for travel from city center to city center. Distances / times reflect the shortest / quickest route from one place to another assuming the following average speeds:
| | | | |
| --- | --- | --- | --- |
| Autobahns | 75 mph (120 kmh) | Back roads | 35 mph (56 kmh) |
| Primary two lane roads | 45 mph (72 kmh) | Four Lane Divided Highways | 60 mph (96 kmh) |
| | | | | | |
| --- | --- | --- | --- | --- | --- |
| Geilenkirchen | 100 / 1:34 | | | | |
| Ramstein | 76 / 1:15 | 175 / 2:45 | | | |
| Frankfurt | 132 /2:08 | 160 /2:20 | 77 / 1:12 | | |
| Sembach | 94 / 1:30 | 175 / 2:30 | 19 / 0:20 | 58 / 0:53 | |
| Spangdahlem | 10 / 0:15 | 107 / 1:50 | 68 / 1:10 | 124 / 1:55 | 85 / 1:25 |
| | Bitburg | Geilenkirchen | Ramstein | Frankfurt | Sembach |
Miles/Kilometers Conversion Chart