AAFES - ARMY AND AIR FORCE EXCHANGE SERVICE - Europe

Newcomers to Europe are often surprised to discover that they have hardly left home as far as shopping is concerned. Even soldiers deployed to Operation New Dawn and Operation Enduring Freedom benefit from the field facilities of the Army and Air Force Exchange Service (AAFES) Europe.
The Exchange supplies its customers with consumer electronics, cameras, videos, name brand sporting goods, new cars, car rental, alcoholic beverages, clothing, household appliances, health and beauty aids and laundry service, to name but a few.
AAFES-Europe operates movie theaters, which show current Hollywood productions at bargain prices, and it operates shoppettes. These are convenience stores with a limited stock of food, beverages, health and beauty products. They usually have extended hours and are sometimes combined with gas stations, Class Six (liquor) stores or video rental facilities.
A relatively new asset for AAFES-Europe is the largest shopping mall in the American military. The Kaiserslautern Military Community Center (KMCC) at Ramstein opened in late 2009. It includes an eight-story, 350-room hotel, parking for 2,800 cars, a four-screen movie theater, the world's largest base exchange, dozens of smaller stores, nine eateries, an Outdoor Recreation Center, a mega bookstore and a day spa.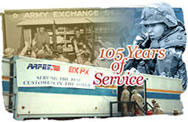 The AAFES-Europe Region is headquartered in Mainz-Kastel, Germany, and is part of the worldwide AAFES exchange system. Its two-fold mission is 1) to provide customers quality merchandise and services at competitively low prices, and 2) to generate earnings that provide a dividend to support morale, welfare and recreation (MWR) programs.
In addition to funding MWR efforts, The Exchange earnings are used to build new stores or renovate existing facilities without expense to the federal government. Historically, roughly two-thirds of The Exchange earnings are paid to MWR. In fact, strong sales and earnings at Army & Air Force Exchange Service facilities, the Exchange Online Store and Exchange Catalogs helped deliver more than $260 million to Army, Air Force, National Guard, Marine Corps and Navy MWR and Services efforts in 2009.
LOW PRICES
In addition to generating earnings for quality of life programs, The Exchange offers some substantial savings. It charges no sales tax and has a number of items featured as Price Cut merchandise. This normally applies to household items and goods that are in constant demand.
The AAFES-Europe buying staff shops European markets and offers special "Europe Exclusive" merchandise only available to overseas customers. Special buys from Eastern European countries as well as Russia provide a unique selection at great prices. The Exchange shoppers in Europe will find reminders of their time in Europe, such as giftware and souvenir items, Polish pottery, Italian ceramics and Belgian tapestries in stores to name but a few. The European buyers also concentrate on items that overseas customers need such as 220-volt appliances and ready-to-assemble furniture at affordable prices.
CATALOG AND INTERNET SALES
The Exchange Catalog is a great shopping alternative overseas, especially for those at the remote duty stations. You can order anything in the catalog either by mail, online or by telephone. It's always best to check the shipping information to ensure merchandise will be shipped to your location.
Two editions of the Exchange Catalog, selling for $5 each, are published annually. In addition to the big books there are annual free supplements featuring seasonal clothing, home décor and other things.
You can now do all your shopping through the award-winning AAFES website, www.aafes.com. The merchandise selection includes everything in the Exchange Catalog and also items that are available exclusively online. It also lists weekly specials and closeouts at extraordinary prices. And it has a link to The Exchange MALL.com; a virtual offering similar to the concession mall located outside the main store at your local exchange. These concessionaires must meet special requirements if they are to be included in The Exchange MALL; special discounts for the military not available outside the site, acceptance of the Star Card, no collection of customer data for outside use, and others.
The website also provides an online forum for authorized customers to gather information on their military communities, view sales fliers, print coupons, complete Military Star Card applications and payments and more.
SERVICES
The Exchange provides just about every service a person in Europe needs, from hair care and laundry services to auto repair, car washes, car rental, electronic repair and optical services. Customers can come to The Exchange for cell phones, residential internet, phone service, and cable TV. There are spas where you can get a massage, facial or manicure and Exchange New Car Sales where you are guaranteed a great price on a new car.
GASOLINE
The Exchange also provides command motorists with gasoline. It has its own on-base stations where gas coupons can be redeemed and has a contract with ESSO to provide gasoline in Germany and The Netherlands. In Italy AAFES participates in the Navy Exchange Service Command fuel coupon program. A high tech automated gas ration card has been issued and is good at both the Exchange and ESSO stations. The license number of the vehicle appears on the card, and the number on the card must match the license plate before fuel can be dispensed.
In The Netherlands, ESSO has identified certain stations that participate in the coupon program. They can be found on the internet at www.aafes.com. (Locations in the Netherlands area are very limited, so ask before you fill up.) There are also Exchange-operated gas stations on military installations in The Azores, Turkey and the UK. The Exchange gas stations give customers the convenience of using cash, check and debit or credit cards for their purchases.
FOOD OPERATIONS
The Exchange fast food facilities provide a taste of home to families living in Europe and to the Military and Civilians deployed in support of OEF/OND. Customers can enjoy Burger King, Popeye's, Taco Bell, Charlie's Steakery, Pizza Hut, Subway and more, all just around the corner from where they live and work. The KMCC at Ramstein has a Johnny Rockets restaurant, Captain D's Seafood Kitchen Restaurant and Manchu Wok Chinese restaurant for exchange customers.
The Exchange operates its own bread, ice cream and water plant to support the shoppettes, fast food establishments and commissaries.
Another food mission for The Exchange is the operation of the USDA School Lunch Program. It provides nutritious lunches daily to K-12 students at DoDDS schools throughout Europe following the same regulations and guidelines as schools throughout the United States. The Exchange was appointed by the Army and Air Force as the school feeding authority overseas. It operates the program on a break-even basis.
AFN SATELLITE DECODER
If you live off base and want to get the full range of television and radio programming from AFN, visit your Exchange PowerZone to lease or purchase an AFN decoder and satellite dish. The decoder system receives the AFN signal via satellite. Don't forget to check with your landlord for permission to mount the satellite dish. The AFN website has instructions on how to set up the dish once you have permission.
FIND THE CLOSEST EXCHANGE
You can easily find any Exchange in Europe (as well as in CONUS and the Pacific) at the following link: http://www.shopmyexchange.com/ExchangeStores/
Choose the desired Region and Location. You'll find complete information about the stores, services and concessionaires as well as contact numbers and operating hours.