USAREUR
• US Army, Europe
USAG Livorno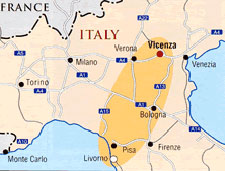 Livorno is in Tuscany, a region in Italy that is rich in both history and culture. USAG Livorno, located on Camp Darby, is a 10-minute drive south of Pisa, home to the world-famous Leaning Tower. Though the military community is small, it has most of the facilities typical of a U.S. installation. They're just a bit smaller in size.
This military complex between Pisa and Livorno was formally dedicated on 15 November 1952 and named Camp Darby in memory of Brigadier General William O. Darby, Assistant Division Commander of the 10th Mountain Division, killed by enemy artillery on 30 April 1945 on the shore of Lake Garda, Italy.
Camp Darby is only a 45-minute train or car ride from the city of Florence, the production center for fine Italian leather. Rich in culture, Florence boasts hundreds of art museums and historic sites, all of which make it one of the most interesting cities in Europe. Florence is also home to the world-famous Uffizzi Gallery and Michaelangelo's masterpiece, the statue of David.
For further information check USAG Livorno's website at www.usag.livorno.army.mil.
Facilities and Services
Sports and Recreation
A full range of indoor and outdoor facilities is offered, as well as thriving community team sports programs, community clubs and bowling centers. There is a well-equipped gymnasium and fitness center complete with Stairmaster, Life Fitness, Nautilus machines and free weights, and a swimming pool open throughout the summer. The Outdoor Recreation Center has camping equipment and bicycles for rent and in the winter offers ski trips, ski rentals and ski lessons.
American Beach. The crown jewel of USAG Livorno recreational facilities is the American Beach near Camp Darby in Tirrenia, at the southern end of the Italian Rivera. The beach, open between Memorial Day and Labor Day, offers water sports gear rental, beach chairs, umbrellas, cabanas and a MWR food and beverage operation.
American Forces Network Livorno
When in the Camp Darby area, tune in to 106.0 FM "The Eagle- serving America's best" for the music, news and information. The power network is located on 107.0. If you have an AFN satellite decoder, channel 14 is an alternative to Channel 2, the Atlantic prime channel. On Channel 14, you will see the same great Atlantic programs, but you will get to see AFN Livorno's commercials and local news. It's a great way to see what is happening at Camp Darby before you arrive. The AFN Livorno website www.afneurope.net/livorno has all the latest local TV news and travel destinations.
Camping
Complementing the beach is the campground located on Camp Darby. The Sea Pines Recreation Facility offers 93 campsites for trailers and tents, and also has ten RV pads. For those who don't want to rough it, the Sea Pines Lodge offers 39 clean and reasonably priced rooms, that are for military personnel and their family members vacationing near the beach.
Leisure
The Information Tours Recreation (ITR) office offers a variety of moderately priced leisure time experiences, including cultural tours, cooking classes and wine tasting. ATC also sells city bus tickets and tickets to regional events, shows and concerts. They now offer a hotel booking service and can help you make reservations around the world.
The Darby Community Club offers a family atmosphere and daily specials.Tuesdays: Bring Your Own Movie & Domino games. Wednesdays: Double-Dog Day, buy one hot dog get the 2nd FREE! Thursdays/Saturdays: X-Box 360 Nite. Bring your favorite X-Box game or play ours on state of the art system. Fridays: D.J. Pack-Man, spinning the best hip-hop, soul and R&B!
Health Services
The clinic has a pharmacy and handles immunizations, obstetrics, ophthalmology, otolaryngology (ENT), pediatrics/well baby, radiology (x-ray only) and casts. U.S. patients with major illnesses or major surgical requirements will be admitted to host nation hospitals or other U.S. military facilities such as the ones at Landstuhl, Germany, or Naples. A dentist from Vicenza comes down to provide general dentistry. Veterinary Services are by appointment only. When the vets from Vicenza visits Camp Darby, they offer animal disease prevention and control, issuance of health certificates and vaccinations.
Schools
The DoDDS Livorno Unit School offers classes Pre-K through 8th grade. Parents of high school age students should be aware that classes 9-12 are no longer offered by DoDDS in Livorno. Alternatives are Italian schools, home schooling or attendance at the International School of Florence, about an hour's drive away. Parents can be reimbursed for allowable educational expenses at a non-DoDDS school.
Community Services
The Army Community Service (ACS) center offers various programs and services for soldiers, civilians and family members; parent education classes, financial maintenance classes, relocation information and support, mobilization and deployment support, employment services, Army Emergency Relief (AER) and volunteer programs. Child Development Services provides full service, center-based child care, the Family Child Care (FCC) program, the School Age Services (SAS) program and respite child care for service members in pay grade E-4 and below. Youth Services operates a sports and fitness program for organized seasonal sports. Volunteers are an integral part of every community. Volunteer experience offers great potential for self-fulfillment and may also be reflected on resumes for future job employment.
The Camp Darby Chapel
The Camp Darby Chapel offers services and religious education for those of the Catholic or Protestant faiths. Your Chapel staff can provide information about them. There is a wide range of Bible study groups, classes and retreats offered by the program. Club Beyond, a non-denomination program for youth, holds its meetings at the chapel.
Scouting
There are scouting programs for both boys and girls contingent upon scout masters and troop leader or volunteers. They advertise and recruit members through the schools, libraries, youth activity centers, media and various other institutions.
Better Opportunities for Single Servicemembers (BOSS)
This program is designed to bring single members' quality of life in line with their married counterparts. The camp Darby BOSS program has won first place at European championships for three consecutive years, as the best BOSS program at a small installation and for conducting the best event. BOSS has a hip, modern lounge solely for the single service members with a covered BBQ pit and patio and large screen TV with video games. Billets afford them more living space so they may decorate to their own tastes and include amenities such as floor kitchenettes, private facilities, fitness equipment and government furnishings. It also involves single personnel in recreational travel and community help programs.
Shopping
In addition to the main store the Livorno PX offers a pick-up point and gift service mart, a shoppette, a tailor shop and a theater, and sells gas coupons for Italy and Germany and oil coupons for Italy. The Camp Darby commissary was once named the best small commissary worldwide in a Department of Defense competition. There are two restaurants: Casa di Ghaja and the Bowling Center Café.
Library
The Library has fiction and nonfiction book selections, reference materials, travel guides, videos and DVDs, CDs, books on CD, educational resources, children's books, magazines and computers with internet access.
Transient Lodging
Casa Toscana offers affordable and comfortable alternatives to local hotels and pensions, while the Sea Pines Recreational Facility at the American Beach also has rooms available the year round.
The Army Post Office (APO)
The Army Post Office (APO) is a full-service facility, providing parcel service and transport of all classes of mail from priority to express. It also transports mail for free from APO to APO when "MPS" is written in the upper right corner of envelopes and packages.
Banking
The Community Bank and Italian BNL all offer full service banking. There are numerous automatic teller machines (ATMs) offering 24-hour service for deposits and withdrawals from both checking and savings accounts in dollars and euros.
Auto Craft Shop
The Auto Craft Shop has undergone a major renovation and has state of the art bays and lifts. It offers assistance in performing automotive maintenance and repair. Equipment, tools and trained mechanics make everything, from charging a battery to major overhauls, possible at great cost savings. There is one hands free automatic car wash and three hands on car wash facilities.

Car Sales

Pre-owned cars, locations in Germany and Italy
Car/Vehicle Insurance

Insurance for US Military, BFG and other NATO forces
DoD Contractors/
ID Card Holders - Business & Employment Advice

Business consulting for DOD contractors and ID card holders
Pet Shipping

Pet Transport and Relocation Experts
Getting Married in Denmark

Marry Abroad Simply
Living in Germany

A Guide to Living and Working in Germany