UAE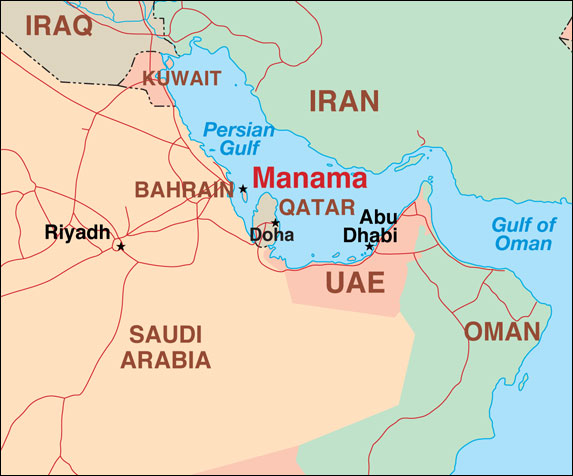 The United Arab Emirates (UAE) occupies a triangle of land and sea on Arabia's eastern flank. It is strategically positioned close to the entrance to the Gulf, with extensive coastlines on its west- and north-facing shores, together with an easterly coastline bordering the Arabian Sea. The UAE is a confederation of seven emirates; Abu Dhabi, Ajman, Dubai, Fujairah, Ras al-Khaimah, Sharjah, and Umm al-Quwain.
Recreational facilities abound on the Gulf coast. Water enthusiasts can sail, fish, snorkel, scuba dive, and windsurf. The Bahrain historical and archaeological society offers conducted tours of the island's archaeological sites many of which date back to 3000 BC.
Climate
Between November and March the area experiences pleasantly warm, sunny days, with an average of 60°F. But very high temperatures (up to a sweltering 118°F) and a high level of humidity are the norm between June and August.
How to Pay
Major credit cards are generally accepted at hotels and large shops. Payment in dollars or traveler's checks is sometimes possible, but usually at a poor exchange rate. It's better to carry dinars or dirhams.
Transportation
The main mode of travel is by taxis, which are plentiful in the streets, though most hotels operate a courtesy bus service.
Shopping
Dubai, in the UAE, has deliberately set out to make itself the duty-free center of the Middle East, and many long-distance travelers flying between Europe and the Far East make a point of scheduling a stopover here just to go shopping! Stores are often open till 10 p.m. or midnight. For many sailors, the chance to pick up bargains in gold jewelry, electronics and computer hardware drove them into Dubai, known in tourism circles as the "City of Gold" for it's hundreds of elaborate gold shops and some of the best jewelry prices in the world.
Bahrain stores are open from about 0830 to noon and 1600 to 2000, Saturday to Wednesday. Facilities range from big air-conditioned malls, offering everything you could possibly need, to the colorful Soukh in Manama, with its maze of narrow streets and its carpet of gold bazaars where bargaining is an important skill.
Greetings and Gestures
In Moslem countries men greet with a hug and a cheek kiss. Veiled women are not introduced.
Customary Tipping
Tipping is not expected, but is common practice. Gratuities to staff at hotels are at your discretion. Most restaurants add service charges to the bill (Abu Dhabi 16 per cent; Dubai 10 per cent). If this charge is not included, add 10 per cent of the total to the bill. Taxi drivers do not expect to be tipped. Supermarket baggers, bag carriers and windshield washers at filling stations are generally given 2 dirham.
Restaurants
The restaurants in Dubai and the UAR, being at a crossroads, offer a mind-boggling variety of cuisines: Arabic, Chinese, Continental, Indian, Italian, Lebanese, Filipino, Spanish, Mexican, American, Turkish, Thai and more. Certain Moslem practices influence dining. You can seldom get pork, and only rarely are restaurants outside of hotels permitted to sell alcohol. Even non-Moslems may find it impossible to buy a drink during Ramadan. If that's not important to you you'll find many non-hotel restaurants serve very good food inexpensively.
Currency Exchange
Banks are generally open from about 0730 to 1400, Sunday to Thursday. Some in the UAE may also be open later in the afternoon and on Saturday.
History
Occupying a strategic position on the great trade routes of antiquity, with good harbors and abundant fresh water, the Bahrainis became natural traders. In Arabic, Bahrain means "two seas." One of the seas is the fresh water that comes from the Saudi aquifer; the other is the salt water of the Gulf.
In the early nineteenth century the British wanted to secure their passage to India, and concluded treaties with the tribal leaders on the Arabian peninsula to suppress piracy. They remained a power in the area for a century and a half. Bahrain, which had been a British protectorate, became a sovereign state in 1971. The US Navy worked out an agreement with it to take over piers, radio transmitters, warehouses and other facilities left vacant by the departing British. The American presence expanded greatly after the first Gulf War.
As fortune would have it, the Navy's expansion coincided with Manama's rise as the hub of Middle East commerce. Foreigners now make up about a third of Bahrain's population, and they dominate in Manama, where several multinationals have facilities and offices. It's a place of skyscrapers, an international airport, banking, heavy industry, retailing and tourism. The 15-mile King Fahad Causeway links Bahrain with Saudi Arabia.
PORTS OF CALL
Jebel Ali (DUBAI)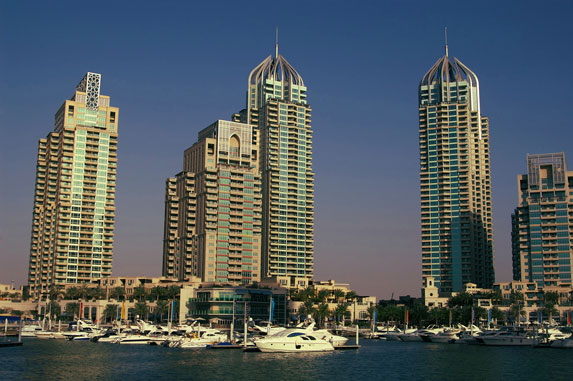 Jebel Ali, in the UAE, has become a favorite port of Navy ships in the Gulf. It's the most frequented port outside of the United States, and a familiar stop for carrier battle groups while deployed to the Gulf. The Kasbah Liberty Center, swimming pools, and laundry there are the primary elements of the Jebel Ali Recreation Center and are operated under the management of the United Services Organization (USO).
Sailors patiently wait to be ushered onto large liberty vessels for a 20-minute ride to Port Rashid, in downtown Dubai. At the pier, sailors find shade, shelter and seats in the big, empty warehouse. While waiting for taxicabs or buses to take them into town, sailors partake of free barbecue and hydrate themselves with the endless supply of bottled water, pulled from dozens of iced bins. Taxis whisk sailors away from the oppressive heat out into town where air-conditioned hotel rooms, blue-bottomed swimming pools and beautiful beaches await.
Sailors participate in the Morale, Welfare and Recreation sponsored sports tournaments, including rugby, golf and softball. MWR gives sailors the chance to experience the local culture through a variety of tours. The most popular tours are the Sunset Safari and Jazira Beach Tour, which offer four-wheeling in the desert, camel riding, eating barbecue and seeing belly dancers.
Manama
Smaller ships tie up at pier-side at Mina Sulman (Mina Salman). Larger ships anchor out and sailors must take a short liberty launch or water taxi ride to the pier. Afloat COs are authorized to grant overnight liberty on a case-by-case basis. Personnel authorized overnight liberty must abide by the established curfew hours, and must be inside an established residence or hotel room at the time of the designated curfew and remain there until at least 0400.
Shorts and t-shirts are authorized on base and standard Navy guidelines are applicable. Uniforms, however, are not authorized off base. While in port in the area, sailors are required to act and dress conservatively. There may be no tank tops unless the wearer is directly engaged in PT. Males may not wear earrings and nose, lip or tongue rings are not authorized for either gender. US Personnel will not wear traditional Arab attire.
Extra care must be taken regarding personal conduct ashore. Public intoxication is a crime in Bahrain and any signs of intoxication are frowned upon. Foul language and obscene gestures are extremely offensive to the local population. Local religious customs, such as the call to prayer, and places of worship must be given the utmost respect. Exercise common sense, maintain situational awareness and use the "buddy system."

Car Sales

Pre-owned cars, locations in Germany and Italy
Car/Vehicle Insurance

Insurance for US Military, BFG and other NATO forces
DoD Contractors/
ID Card Holders - Business & Employment Advice

Business consulting for DOD contractors and ID card holders
Pet Shipping

Pet Transport and Relocation Experts
Getting Married in Denmark

Marry Abroad Simply
Living in Germany

A Guide to Living and Working in Germany