AFN - AMERICAN FORCES NETWORK
See the list of AFN Frequencies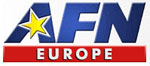 The American Forces Network Europe provides that "touch of home" with multiple radio and television service to military members, civilians and family members in the U.S. European Command. AFNE, headquartered in Mannheim, serves U.S. forces stationed in Europe, the Middle East, Persian Gulf and many of the countries that have evolved from the former Soviet bloc.
The Defense Media Center at March Air Reserve Base in Riverside, California obtains the commercial material broadcast by the network. This includes most of the top rated U.S. television shows, most major sporting events, many syndicated radio programs and current U.S. hit music.
The Media Center sends all these radio and television programs via satellite to Europe, where they are decoded and piped via cable to on-post locations. People who don't live on post can still get the programs. A decoder for this purpose costs about $235, or can be rented for $13 a month. Off-post dwellers will also need a satellite dish, costing about $100. Check with the AAFES Power Zones.
Television
On average, AFN Television broadcasts nine of the top ten U.S. television programs, plus news and documentaries from the States. Most major U.S. sporting events are broadcast as well.
In Europe, people with the proper satellite receivers and most people getting AFN via cable can watch the following AFN-TV services:
AFN Sports. Expanded coverage of sporting events including ESPN's SportsCenter.
AFN Prime Atlantic. This is the primary channel here. Programming includes news, current sitcoms, dramas, popular soap operas, syndicated "judge" shows, talk shows, game shows and reality shows. It is formatted much like a traditional broadcast network schedule.
AFN Spectrum. Is complementary to AFN Prime and shows additional popular entertainment, network and reality shows as well as repeats of hit shows.
AFN Prime Pacific. For people stationed in the Pacific. Same programming as AFN Prime Atlantic, but eight hours earlier.
AFN News. Expanded news coverage with round-the-clock stateside news programs, including the morning shows and nightly newscasts of the major networks, hourly newscasts, political talk shows and military related programming from the Pentagon Channel.
AFN Xtra. A youth-oriented channel targeted to 18 to 24 year olds with sports, music videos, wrestling, reality shows and programming from Comedy Central, MTV, BET and more.
AFN Program Guide. Tells you what's currently playing on the other channels.
Pentagon Channel. Your 24/7 source for Defense Department news programs, press conferences and major Defense Department briefings on subjects impacting the troops.
AFN Family. Programs reflecting traditional values with particular attention given to ages 2-17.
AFN Movie. A wide variety of movies, complemented by specials that take the viewer behind the scenes of the entertainment industry.
AFN Prime Freedom. For people deployed to the Middle East. Same programming as AFN Prime Atlantic, but two hours earlier.
There are no fewer than 55 more channels on the satellite, and AFN makes interesting use of them. Each of AFN Europe's affiliate TV stations has its own channel. Most of the programming on them is just a repeat of what you can also see on AFN Prime, but each of them breaks away at times for local news and spot announcements.
There are also many audio channels on the satellite. You can get AFN's radio affiliates, plus NPR, sports and wall-to-wall music. Your screen usually shows the AFN Program Guide from Channel 7 while the audio programs are in progress.
The TKS cable company provides the AFN signal, and a great deal of other English-language TV to military housing areas in Germany. These include four entertainment channels, three sport channels, three news channels, three music channels, three documentary channels, two home & garden channels, a dedicated movie channel, a cartoon channel and an erotic channel. It also has a TVchannel in Spanish and 14 in German as well as eight premium FM radio channels.
Radio
AFN offers two radio networks: the Power Network (AM) and the Eagle (FM). The Power Network provides information, news and sports programming around the clock in most U.S. European Command locations, while the Eagle is music-based with local information 24 hours a day, seven days a week.
The Power Network broadcasts hourly newscasts and syndicated talk radio programs such as Car Talk, Kim Komando, Talk of the Nation, A Prairie Home Companion and other programs from National Public Radio and other sources. It also presents political talk shows.
Eagle Radio's format is modeled after the "Jack FM" broadcasts in the states. These play a mix of 1980s and 1990s hits with current hot adult contemporary singles. It also breaks away from time to time so that the regional stations can present local news, traffic and weather information.
AFN Europe Contact Information
AFN Europe is also worldwide with European Command news stories and other U.S. military news and information at: http://www.afneurope.net
The AFRTS website is http://www.myafn.net
The network maintains a telephone trouble number for radio and television service disruption. If you have lost AFN service, call DSN 389-4444 or Germany commercial 0621-460 854444.
American Forces Network Frequencies
Location
AM
FM
Germany
Amberg
1107
90.0
Ansbach
1485
107.3
Bamberg
1143
98.9
Baumholder
1107
106.1
Frankfurt
873
98.7
Garmisch
1485
90.3
Grafenwoehr
1107
98.5
Heidelberg
1143
104.6
Hohenfels
1485
89.4
Illesheim
1485
104.9
Kaiserslautern
1107
100.2
Mannheim
1143
107.3
Pirmasens
1107
103.0
Schweinfurt
1143
87.7
Spangdahlem
1143
98.9
Stuttgart
1143
102.3
Vilseck
1107
107.6
Wiesbaden
873
98.7
Location
AM
FM
Belgium
Brussels
-
101.7
Chievres
-
107.9
Florennes AB
-
107.7
Kleine Broegel AB
-
106.2
SHAPE (Power)
-
104.2
SHAPE (Eagle)
-
106.5
Italy
Power Network
1503
-
The Eagle
-
106.0
Greece
Souda Bay
-
107.3
Netherlands
Brunssum
1143
101.7
Schinnen
1143
89.2
Voekel
-
107.9
Portugal
Azores
1503
96.7
Spain
Moron AB
-
92.1
Rota
-
102.5
Turkey
Incirlik
1590
107.1