Spain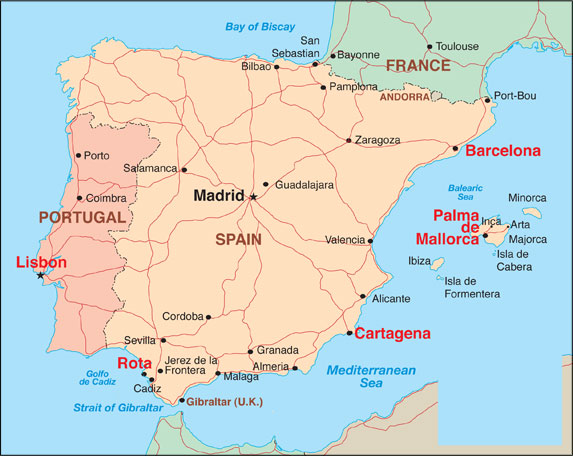 Spain's coastline, with miles of high-rise hotels and attractive beaches, is a major tourist area. And its fascinating interior, ranging from the snow-capped crags of the Pyrenees to the olive trees and orange groves of Andalusia, continues to lure visitors in increasing numbers. Spanish art and architecture are a world away from the measured restraint of northern Europe. Although the country encompasses a fascinating range of cultures, customs, and traditions, Spaniards nevertheless share a passion and enjoyment for life that will infect the traveler.
Climate
The eastern coast from Catalonia to the Levant features a mild winter, the temperature averaging 50°F in winter, and a hot summer. The southern coastline experiences one of the warmest winters in mainland Europe, with temperatures averaging 55°F. Summer temperatures hover around 90°F, sometimes going higher, and rainfall is light throughout the year.
How to Pay
Major U.S. credit cards are usually accepted with proper identification, such as a passport, but visitors should always ask if a particular card is accepted prior to ordering meals or making hotel reservations. Payment in dollars or traveler's checks is sometimes possible, but usually at a poor exchange rate. It's better to carry euros.
Currency Exchange
Money should be exchanged at banks. Hotels, restaurants and shops give less favorable rates. Banks are open 0900 to 1400 Monday to Friday and 0900 to 1300 Saturday. Bureaux de change are usually open longer.
Shop Hours
Department stores usually are open six days a week from about 1000 to 2000. Smaller shops usually take the traditional siesta break, and are open from about 0900 to 1400 and 1700 to 2000, and they often close at 1300 Saturdays.
Customary Tipping
Restaurants are required to include service charges in their bills. However, it's customary to leave the waiter another euro or so, perhaps by giving him €20 when the charge is €18.50. Tour guides, barbers, beauticians, taxi drivers, bellboys and ushers also expect tips. Remember that a one euro coin is worth about 60 cents and tip as you would in the States.
Dining
Food can be a real treat in Spain. The Costa Blanca is famous for paella. The dazzling dish of saffron rice with fish, shellfish, chicken and meat, can be found all over Spain but it's better near Valencia, where it originated. Seafood is always good, and treat yourself to some tapas, small plates of hot and cold appetizers Spaniards use to fill the gap between lunch and dinner. They include salty anchovy fillets in a garlicky oil, spicy sausages, olives and meatballs in tomato sauce. Spain produces more wine than any country in the world. It doesn't have much of a reputation worldwide, but the local wine wherever you are probably will be all right, and cheap. Restaurantes tend to open for lunch from about 1300 to 1500 or even later; more humble eating establishments open from 1200 to 1500. Dinner is usually served from about 2100 to 2300. However, some restaurants catering for tourists may have earlier opening hours.
PORTS OF CALL
Barcelona
Spain's second largest city, Barcelona, has been a thriving Mediterranean port since the Middle Ages. It has long rivaled the Spanish capital of Madrid in terms of commercial heritage and commercial success.
It is the capital of the semi-autonomous province of Catalonia, which was variously held throughout history by the Romans, the Moors and Charlemagne before being united with Spain in 1474 under Ferdinand and Isabella. They were the ones who sponsored Columbus' voyage to the New World, and it was at Barcelona in 1493 that the king and queen welcomed him back from his first voyage.
Despite protests by animal rights types, Spain holds fiercely to its traditional sport of bullfighting. If you're into that sort of thing, Barcelona's bull ring is so big that it has been nicknamed "The Monumental." Half a dozen good beaches, with a good choice of bars and restaurants, are strung out along the seacoast. And don't forget the traditional flamenco shows.
A cable car makes a terrific scenic ride from the port to the top of Montjuic Hill, with a stop at a statue of Columbus. On the hill is the Montjuic Amusement Park, with a bird's eye view of the city from the ferris wheel, a highly recommended rollercoaster, heaps of other rides, floor shows, restaurants and cafes. Also on the hill is a castle and several sites, including the stadium, that are associated with the 1992 Olympics, which Barcelona hosted.
Cartagena
The ancient port of Cartagena has a long history. It's an important deepwater port today, the "Norfolk of Spain," and its military significance goes back a long way. All the major conquerors of the Iberian peninsula had bases there: the Carthaginians, the Romans, the Visigoths, the Moors.
It has a massive seawall dating from 1770, and its beautiful old buildings and fine gardens add to its old world charm. A walking tour of Cartagena is fun, and if you're lucky you'll arrive during some of Spain's best fiestas.
The National Museum of Underwater Archaeology is a must for the naval history buff. Along with objects from long-ago shipwrecks and scale models of ancident vessels, it has a prototype submarine dating from way back in 1888. It was the brainchild of Spanish inventor Isaac Peral, measures 72 feet, displaces 85 tons and is remarkable in its similarity to a present-day sub.
Palma de Mallorca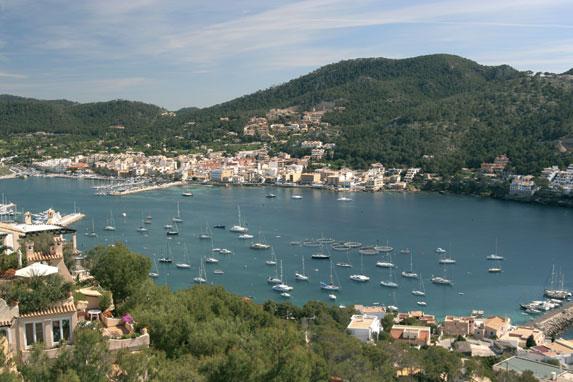 Palma is the capital and largest city of the island group known as the Balearics, which lie off the coast of Catalonia and identify with that region. The city sits on the largest of the islands, Mallorca (Majorca).
The downtown area of Palma is pleasantly Spanish but the outlying areas are given over to high rises and tourists. To experience Mallorca as it was "back then" it is possible to make a day trip to the interior. Farmers still use oxen for plowing. For shoppers on Mallorca pearls are a good buy. They aren't harvested from oysters, but manmade from fish scales.
Rota
The whitewashed seaside town of Rota, with a fine beach, tends to be quiet off-season but it's fairly jumping on summer weekends and during the July-August holiday season. Though the naval base will make you feel right at home you ought to get out and visit some of the local sights. Rota is in the southern region of Andalusia, which epitomizes the image of Spain you have always had. Here we find the flamenco, impressive religious ceremonies, orange trees and a distinctive architectural style derived from the Moors.
Many of the buildings have Spanish-style balconies. Bougainvillea and geraniums add a splash of color, as do the Spanish-tiled foyers and patios. Sherry-producing Jerez de la Frontiera is just 20 minutes to the northeast of Rota. The word "sherry" actually derives from the name of Jerez. You may find this fortified wine a bit of an acquired taste, but you should try a glass or two of the local vintage, which is served chilled. The fino is dry and the amontillado is sweeter.

Car Sales

Pre-owned cars, locations in Germany and Italy
Car/Vehicle Insurance

Insurance for US Military, BFG and other NATO forces
DoD Contractors/
ID Card Holders - Business & Employment Advice

Business consulting for DOD contractors and ID card holders
Pet Shipping

Pet Transport and Relocation Experts
Getting Married in Denmark

Marry Abroad Simply
Living in Germany

A Guide to Living and Working in Germany