USAFE
• US Airforces in Europe
Turkey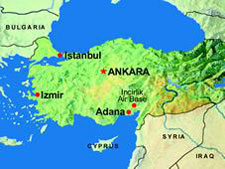 Incirlik
Incirlik Air Base is located approximately eight miles from Adana, Turkey, and 250 miles southeast of Ankara. There are approximately 1,500 permanently assigned military and 1,500 family members, along with a variety of DoD civilians and contract personnel. Close to many of the world's potential trouble spots, Incirlik Air Base is an important base in NATO's Southern Region.
The mission of the host 39th Air Base Wing is to help protect U.S. and NATO interests in the Southern Region. Although it has no permanently assigned U.S. Air Force aircraft, it provides excellent facilities and supports training deployments and regional exercises. It also provides real-world operational support and ideal training facilities to include the area's cooperative weather, sparsely populated terrain and uncongested airspace. Key support includes medical services, supply, security and force protection, base infrastructure, communications support, transportation services and airlift.
Construction of the base began in the spring of 1951, and the Turkish General Staff and the U.S. Air Force signed a joint use agreement for the new base in December 1954. The following years would prove the value of Incirlik's location, not only in countering the Soviet threat, but also in responding to crises in the Middle East. The base was the main operating location for U-2 reconnaissance aircraft until May 1960, when Francis Gary Powers' U-2 aircraft succumbed to a volley of surface-to-air missiles over the Soviet Union.
While Turkey is a predominantly Muslim country, religious tolerance is the law and significant Christian and Jewish communities thrive here. It is also a very functional Western-style Democracy, one of a handful of Democracies in the world to have had a female President. Much of Western Turkey culture is very similar to its neighbors in Europe and coastal Turkey is rapidly growing as a major Mediterranean resort vacation spot. Eastern Turkey is much more conservative.
Incirlik is in the south-central part of Turkey, only 35 miles from the Mediterranean. There are many shops in Incirlik Village; fresh fruit and vegetable markets, small restaurants and bakeries. Adana is half modern, half very "old world". It has Turkish Bazaars, open markets and a modern, western-style shopping mall, complete with a Cineplex that plays the latest American movies in English and an indoor ice-skating rink. Turkey is a shopper's paradise for gold, carpets, spices and antiques. Other items include textiles, leather, brass, onyx pieces and pistachios. In most stores, the culture requires bargaining.
The weather at Incirlik resembles south-central Texas: hot and humid during the summer and fall, moderate to cool the rest of the year. A "rainy season" generally occurs between December and March. Annual precipitation averages 27 inches. The Toros mountains an hour to the north are much cooler.
For more information check the Incirlik website at www.incirlik.af.mil.
FACILITIES AND SERVICES
Recreation
On base services include a swimming pool, nine-hole golf course, horse stables, skeet range, auto hobby shop, skills development center (ceramics/woodworking), bowling center, fitness center, library, consolidated club, recreation center, outdoor recreation supply and check-out. There is also a wide variety of off-base activities; snow skiing, water sports, mountain biking, white water rafting, hiking, fishing and touring.
Education Facilities
The Base Education Services offers volunteer off-duty education college courses via Central Texas College, Embry-Riddle Aeronautical University and University of Maryland University College-Europe Division. Courses are taught during the week as well as weekends. Associate, Bachelor, and Master's Degrees are all available. Vocational classes and Certifications are provided. Tuition Assistance is authorized to about 50 U.S. academic institutions. The distance learning programs are coordinated through the Base Training and Education Services Flight.
DODDS Schools. Incirlik Unit School is a K-12 institution with elementary, middle and high school all on one campus. The school provides a Sure Start program for selected pre-school age students.
Medical
Incirlik maintains a clinic on the installation. Active duty members and their dependents are entitled to medical services. Retirees and government civilians may obtain care on a space-available basis. If services are unavailable at the clinic, patients may be referred through TRICARE to obtain care elsewhere. All primary care and specialty clinics operate on an appointment basis. Emergency Room services are not available on base. A modern Turkish hospital in Adana, which is constantly monitored to ensure quality of care, is used for emergencies and overnight stays. Expectant mothers may be "Storknested" in Ankara, Turkey, or Landstuhl, Germany, when near their delivery date. The Dental Clinic operates on an appointment basis and provides dental treatment to all active duty members and care to dependents on a space-available basis.
Veterinarian Services
The Veterinary Clinic, was cited in 2007 as best in DoD. Appointments are required but if an emergency occurs it offers 24/7 emergency response.
Red Cross
Red Cross services on base include emergency notification/verification of death or sudden illness and birth announcements. It also has a stand at the terminal to greet arriving soldiers.
Child Care
Child Care is available though the Child Development Center, Family Care Providers, and a large number of families hire full time nannies.
American Youth Activities (AYA) Center
The American Youth Activities (AYA) Center sponsors many programs and activities throughout the year. Youth sports, after school program, field trips, carnivals, picnics, adventure camps and a variety of other events.
Shopping
In addition to the Base Exchange, there is a Shoppette, Turkish Bazaar, barber shop, beauty shop, BookMark, electronic repair, food mall, furniture store, gas station, movie theater, new car sales, optical shop and video rental. At the food mall are Taco Bell, Baskin Robbins, Burger King and Pizza Hut. There is also a well-stocked commissary, with a bakery, deli, fresh sandwiches to go and rotisserie chicken.
Religious Activities
Worship services include Catholic, Protestant, Jewish and Muslim. Chapel-wide activities are available to include picnics and pool parties.
Dining
The Sultan's Inn Dining Facility provides a variety of food choices during breakfast, lunch, dinner, and midnight meals seven days a week, and is available to all active duty military, and Reserve personnel.
Clubs
There is a modern Consolidated Club providing typical club activities with enlisted and officers lounges, along with a restaurant, cashier and a Travel and Tour Office.
Banking
The Pentagon Federal Credit Union has a branch on base. There are five ATM machines available and the Finance Office cashes checks, exchange dollars for Turkish lira and redeems savings bonds for service members.
Home Comforts
Cable television is provided in military housing and lodging facilities. Commercial satellite service and Internet access are available at additional charges. Access to the Internet can be achieved by stopping by the bowling alley.
Housing
All personnel assigned to Incirlik Air Base must, for reasons of anti-terrorist force protection, reside on base. The base has 750 houses and is presently involved in an extensive ongoing construction/renovation project. Family housing on Incirlik varies from two to four bedrooms and from 1,040sq/ft to 2,230sq/ft depending on your rank and bedroom requirements/entitlements.
IZMIR
Izmir is a 12-month unaccompanied assignment. There are no DoDDS schools and no base or post housing. Service members live in high-rise apartments or houses "on the economy," and many of them wear civilian clothes during duty hours or change into uniforms only at their places of work.
Members of the American military community live and work alongside the Turkish population. Most base functions are in Bayrakli, about four miles from downtown Izmir.
Izmir, formerly known as Smyrna, is located on Turkey's west coast along the Aegean Sea, 150 miles south of the Dardanelles, the strait that divides Europe and Asia. This modern metropolis is the third largest city in Turkey with a population of more than four million. One of Turkey's major seaports, second only to Istanbul, Izmir is a major outlet for a rich agricultural region. The most important street for tourists in Izmir is the long Ataturk Caddesi. One side of this broad seafront is lined with handsome modern buildings, mainly restaurants. Also worth visiting are the Archaeological, Cultural and Ethnographical Museums.
SERVICES AND FACILITIES
Sports and Recreation
Just about any recreational activity other than golf that you enjoy at a stateside base can be found in Izmir. Much is located only four miles from the air station at Bayrakli Park, the only open green space under squadron control. Facilities include a fitness center, two lighted tennis courts, a football/soccer field, a golf driving range, mini golf, sand volleyball, a large playground, a swimming and wading pool, a large picnic area with several barbecue grills and a lighted softball field.
Turkey's jagged coastline is beautiful to look at and provides many delightful places to swim in the turquoise-clear waters of the Aegean Sea. Within an hour's drive of Izmir is a wide selection of beaches, hotels, resorts and campgrounds.
There is no Youth or Child Development Center. The majority of the community-geared programs will be offered through the Club, Fitness Center, Marketing or Outdoor Recreation.
Education Services
The Education Office offers a variety of college courses during the week as well as weekend classes, and has a learning lab for distance learning. Participating are the University of Maryland and City College of Chicago.
Health Services
The clinic is staffed with three family practice physicians, two dentists, and one pscyhologist. They're trained to treat a wide variety of medical problems, including low-risk pre-natal care and well baby care. For problems that require a specialist, patients are sent to a local English-speaking physician or are referred to another military facility via the aeromedical evacuation system. Immunizations are available. Specialists in the fields of Gynecology, ENT, Dermatology, Orthopedics, Surgery and Optometry from Incirlik Air Base visit Izmir approximately every three months and are available on a consultation basis. Only very healthy active duty members with no significant medical problems should consider PCSing to Izmir. The area is bad for persons with respiratory problems. Coal is used widely for heating and smog control is poor. And the tap water in Turkey should not be drunk, even in the Hotel. Purchase bottled water. The clinic does not offer veterinarian services for care of pets. These services may be obtained on the local economy.
Religious Activities
The Chapel, probably the most unique one in the world, offers Catholic masses and Protestant worship services every Sunday, plus religious education, men and women's groups, Bible studies, retreats, and biblical tours. The services are held in the Cathedral Basilica of St. John the Evangelist, a place of history and beauty.
Exchange and Commissary
The Base Exchange and Commissary are located in the same building. The Commissary carries most items available in larger commissaries, including fresh milk, meat, chicken rotisserie and deli. In addition to the main exchange there is a snack bar, Class Six store, Anthony's Pizza, Baskin Robbins, plaque shop, barber shop, beauty shop, dry cleaner, carpet shop, marble & wrought iron shop, gift shop, tailor, electronic repair, optical shop, new car sales, and jewelery. The exchange is small and carries a limited amount of merchandise. For the sake of variety, be prepared to shop on the economy and to purchase items from catalogs and the Internet.
Clubs
Izmir offers a consolidated club and Information Tickets and Tours office. There are 12 computers and four laptops located at the club, which can be used for online shopping
Library
The Library also provides a wireless network that can be accessed from within both the Library and the Club. Other products available include DVDs, music CDs, the best-sellers, travel guides, language materials, the Rosetta Stone language learning program, CLEP and DANTES study materials, full-text databases and much much more
Airman & Family Readiness Center
Izmir's center offers classes on Turkish culture, personal finances, transition assistance, and local resources with information and referral.
Television
Antenna systems can pick up six to ten Turkish TV stations, but you will need a PAL-compatible or multi-system TV in order to view them. Services has satellite dishes available for rent. This will give reception for USAFE, AFRTS and AFN TV stations. American (NTSC) VCR tapes are available for loan at the library and for rent at the Shoppette.
Housing
There are no government quarters at Izmir. The housing referral office is prepared to assist personnel in finding housing on the economy.
Lodging
The Transit Lodging Facility is at the Hilton Hotel, which offers a broad range of amenities.
Banking
There is no American banking facility in Izmir. Ensure that your pay is being automatically deposited to a stateside institution and that you have a checking account in place before you PCS. Online banking services are also recommended. Checks can be cashed at the Finance Cashiers Cage, the Exchange and the Izmir Club. There are also three automatic teller machines on base.

Car Sales

Pre-owned cars, locations in Germany and Italy
Car/Vehicle Insurance

Insurance for US Military, BFG and other NATO forces
DoD Contractors/
ID Card Holders - Business & Employment Advice

Business consulting for DOD contractors and ID card holders
Pet Shipping

Pet Transport and Relocation Experts
Getting Married in Denmark

Marry Abroad Simply
Living in Germany

A Guide to Living and Working in Germany