USAG MANNHEIM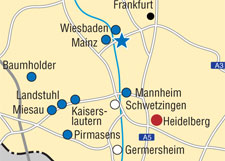 Though it has a long history as a USAREUR base, Mannheim is officially a non-enduring facility, and is slated to lose personnel in 2009. Coleman Barracks is now, among other things, the home of the American Forces Network and the U.S. military's prison, but a report in the Stars & Stripes says plans are afoot to move both to Sembach, near Kaiserslautern. The Air Force, which presently operates Sembach, reportedly plans to abandon it.
With a population of 340,000, the university town of Mannheim is the second largest city in Baden-Wurttemberg, an elegant old town, carefully restored after wartime bombing. Located at the center of the Rhine-Neckar triangle,Mannheim is known as the city of quadrangles. On March 17, 1606 Prince-Elector Friedrich IV of Palatinate laid the plan for the fortified city with right-angled streets. The city name itself describes Mannheim as a place where "men are at home." The population of the greater Mannheim-Ludwigshafen urban area exceeds half a million.
For further information check their website at home.mannheim.army.mil.
FACILITIES
Sports and Recreation
The Fitness Center has a well-trained staff, convenient hours of operation, locker rooms and a full array of fitness equipment. Outdoor Recreation offers economical ski trips and packages to ski resorts in Austria, Italy, Switzerland, France and the Edelweiss Lodge and Resort in southern Bavaria. The bowling centers at BFV and Coleman Barracks offer multiple-lane facilities, pro shops, snack bars, game rooms and conference rooms.
Clubs
The Top Hat Club, The Cove, Al's Sportsbar and Mike's Pub offer fine dining, an assortment of snacks, live entertainment, excellent brunches, karaoke bars, wide-screen televisions, unit and group nights, plus many other programs and activities.
Health Services
The United States Army health clinics at BFV and Coleman are outpatient facilities providing high quality primary and limited specialty health care. Serious cases are referred to local host nation hospitals or the Landstuhl Regional Medical Center. The BFV Dental Clinic provides general dentistry and specialty treatment to authorized individuals. Veterinary Services include animal disease prevention and control, issuance of health certificates and vaccinations.
Schools
Mannheim has an elementary school, middle school and high school.
Community Services
The Army Community Service (ACS) center offers various programs and services for soldiers, civilians and family members; parent education classes, financial maintenance classes, relocation information and support, mobilization and deployment support, employment services, Army Emergency Relief (AER) and volunteer programs. Child Development Services provides full service, center-based child care, the Family Child Care (FCC) program, the School Age Services (SAS) program and respite child care for service members in pay grade E-4 and below. Youth Services operates a sports and fitness program for organized seasonal sports. Volunteers are an integral part of every community. Volunteer experience offers great potential for self-fulfillment and may also be reflected on resumes for future job employment.
Chapel
The Chapel offers services and religious education in numerous denominations. Your Chapel staff can provide information about them. There is a wide range of Bible study groups, classes and retreats offered by the program.
Scouting
There are active scouting programs for both boys and girls. They advertise and recruit members through the schools, libraries, youth activity centers, media and various other institutions.
Better Opportunities for Single Servicemembers (BOSS)
This program is designed to bring single members' quality of life in line with their married counterparts. Billets afford them more living space so they may decorate to their own tastes and include amenities such as floor kitchenettes, private facilities, fitness equipment and government furnishings. It also involves single personnel in recreational travel and community help programs.
Shopping
The Army and Air Force Exchange Service (AAFES) has a retail store, service station, shoppette, pick-up point, military clothing sales, video store, Class Six beverage shop, food court, laundromat, alterations shop, movie theater and barber and beauty shops. The first AAFES-operated Vision Center in Europe is located on Coleman Barracks, and a modern, well-stocked commissary sells U.S. brand-name products and many European specialties. There are also franchised restaurants such as Burger King and Popeye's Chicken.
Sullivan Library
The Sullivan Library has fiction and nonfiction book selections, reference materials, travel guides, videos. educational resources, children's books, magazines and computers with internet access.
USO
The Rhein-Neckar regional office of the worldwide United Service Organizations (USO) is located in Mannheim. The USO sells tickets to concerts and other special events in and around Germany.
Transient Lodging
The Transient Lodging facility offers affordable and comfortable alternatives to local hotels and pensions.
The Army Post Office (APO)
The Army Post Office (APO) is a full-service facility, providing parcel service and transport of all classes of mail from priority to express. It also transports mail for free from APO to APO when "MPS" is written in the upper right corner of envelopes and packages.
Banking
The Community Banks offers full service banking. Automatic teller machines (ATMs) offer 24-hour service for deposits and withdrawals from both checking and savings accounts.
Auto Craft Shop
The Auto Craft Shop at Taylor Barracks offers assistance in performing automotive maintenance and repair. Equipment, tools and trained mechanics make everything possible at great cost savings.